Summary:
This is a fast and easy weeknight recipe for a cheesy ground beef dinner with vegetables and avocado. Just one pan is needed, and it only takes 30 minutes total to prep and cook. With delicious Southwestern flavors, it's a family favorite among low carb beef dinners.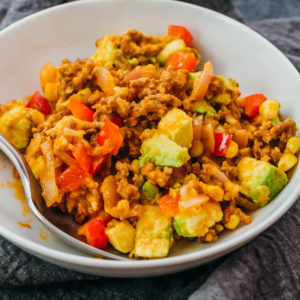 INGREDIENTS
INSTRUCTIONS
Cook Veggies: Stir in bell pepper, onion, salt, and cayenne until well-mixed, about a minute. Stir in cauliflower rice and tomato sauce, cooking until cauliflower rice is tender, a few minutes.

Add Finishings & Serve: Turn off heat. Stir in corn. Gradually distribute cheese shreds over pan as you stir them in until melted. Stir in avocado chunks, and serve (Note 8).
NUTRITION
Makes 5 Servings
Amount Per Serving (1.75 cups):
| | |
| --- | --- |
| Calories 420 (57% from fat) |   |
| Total Fat 27g | 41% |
|    Saturated Fat 10g | 50% |
| Cholesterol 104mg | 35% |
| Sodium 490mg | 20% |
| Net Carb 8.5g |   |
| Total Carb 13.5g | 5% |
|    Dietary Fiber 5g | 19% |
|    Sugars 5.5g |   |
| Protein 31g |   |
PHOTOS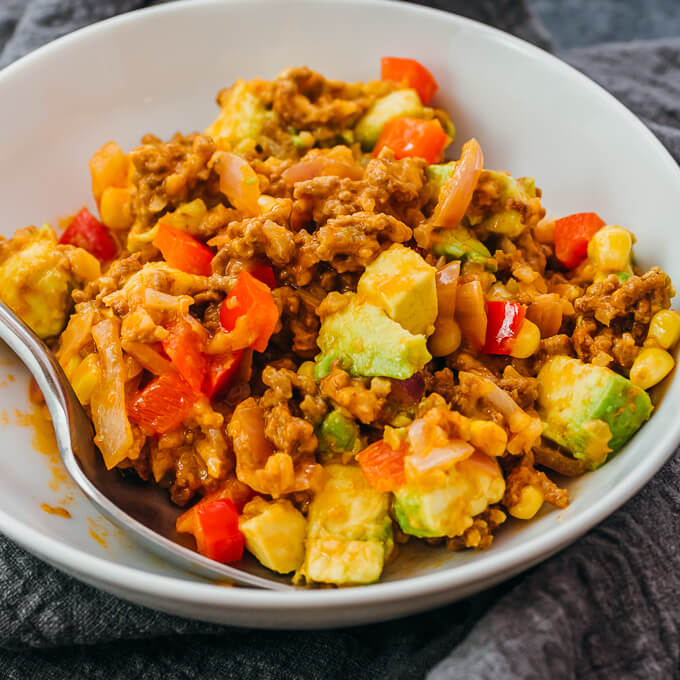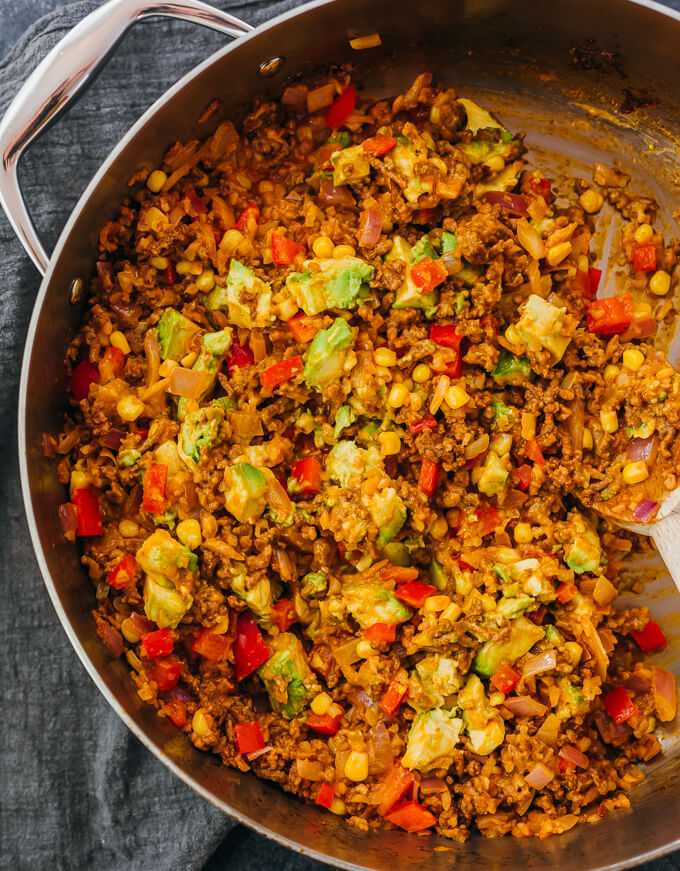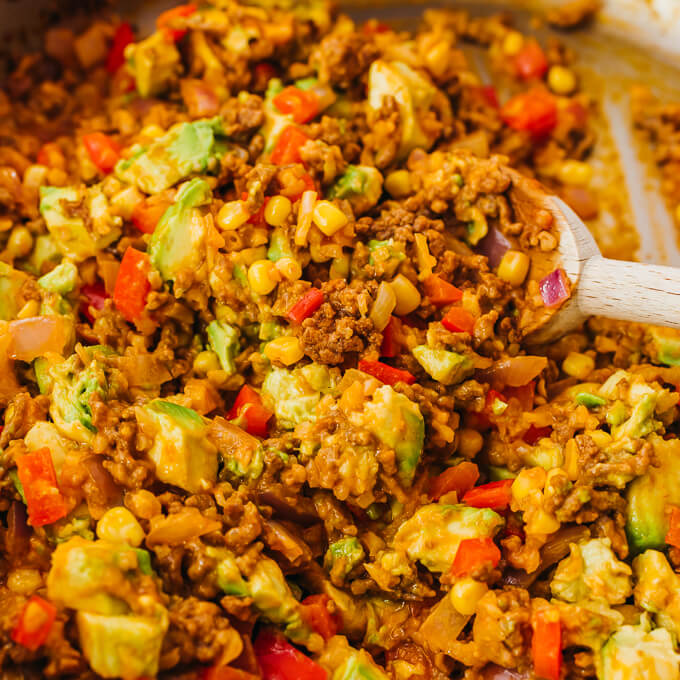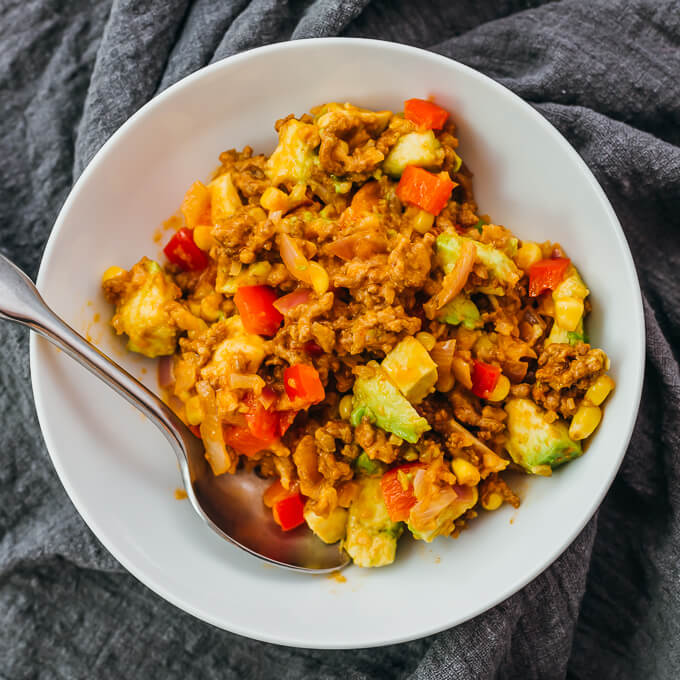 NOTES & TIPS
(1) Ground Beef. I use 80% lean. Don't have beef? Use ground turkey or pork.
(2) Cauliflower Rice. Same as 6 ounces weight. You can use fresh or frozen. To prepare cauliflower rice, it's easiest to buy bags of pre-riced cauliflower in the produce section or freezer aisle of U.S. grocery stores — less work than grating cauliflower florets by hand.
(3) Red Onion. About 1 small or 1/2 large onion. You can substitute this with your favorite type of onion.
(4) Corn. You can use fresh or frozen.
(5) Cayenne. This amount results in a barely spicy to mild dish. Adjust as needed to match your preferences.
(6) Pan. I use a 12-inch stainless steel saute pan with 3-inch tall sides, with a 5-quart capacity. I don't add any oil to grease the pan.
(7) Reserving Grease. I keep the grease in the pan as I'm cooking the vegetables in the next step. If you use ground beef that is less than 80% lean, you may want to drain some of the grease before cooking the veggies to avoid an overly greasy final dish.
(8) Serving. Serve this dish with a dollop of sour cream, low carb tortillas (like Mission brand), crispy fried jalapeño slices, or low carb jalapeño poppers. If you have leftovers, cover and store them in the refrigerator. Reheat using the microwave.
(9) Number of Servings. You can halve or double the ingredients proportionally. If you're halving the recipe, use a smaller 10-inch pan. If you're doubling, use a 6-quart pot and you may need to increase the cooking times slightly.