Summary:
This tasty Southwest skillet has ground beef, rice, peppers, onions, beans, corn, and a dash of cayenne -- all conveniently cooked together in one pan.
Check out the recipe below, followed by photos, cooking tips, and reader reviews.
Looking for low carb recipes instead? Visit the Savory Tooth Homepage.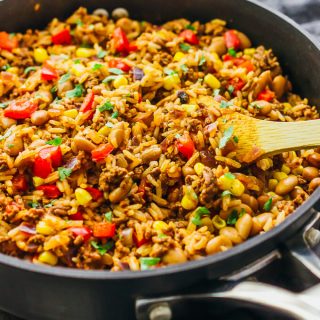 Southwest Beef and Rice Skillet
(Ratings:
)
INSTRUCTIONS
Heat canola oil in a 3 quart or larger pan over medium heat. Add beef and break it apart as it cooks. Cook until browned, about 5 minutes.

Add red bell pepper, onion, cayenne, and salt. Cook and stir for a few minutes until fragrant.

Add rice, beef broth, and tomato puree. Stir to mix well. Bring to a boil over medium-high heat. Cover with a lid and reduce heat to medium-low. Simmer until the rice is tender and the liquid is absorbed, about 15 minutes.

Remove the pan from heat. Uncover and add pinto beans and corn. Stir together and add salt to taste if needed. Optionally garnish with freshly chopped cilantro.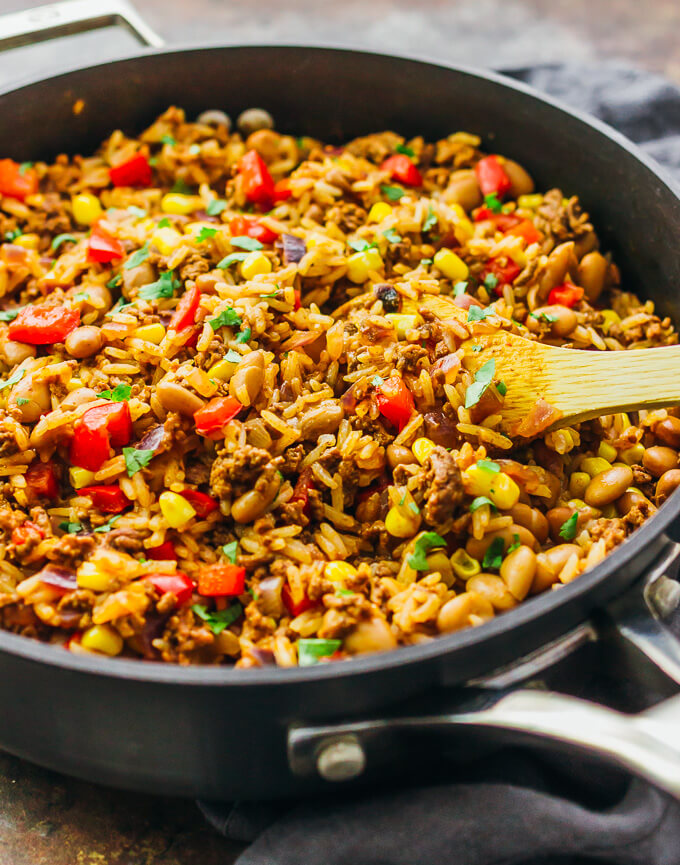 I'm always on the hunt for great weeknight dinner ideas that are fast and easy. This Southwest beef and rice skillet is definitely going on my list of one-pan meals that match all of my criteria for a great dish. It's simple to make, with everything cooking together in the same pan (including the rice), and has bold savory flavors that I love.
It also has a good mix of meat, vegetables, and grains. If you're trying to eat lower carb, you can easily swap out the rice for quinoa. The recipe yields five hearty servings, and leftovers reheat well in the microwave for a quick lunch the next day.

You can easily make ingredient substitutions with this recipe to make it your own. I mentioned already that the rice can be replaced with quinoa if you're going the healthier route — just watch the cooking time and the liquid level.
You can use your favorite Southwestern spices or store-bought seasoning packets if you'd like, or even entirely omit the cayenne if you can't handle the heat. I only use 1/4 teaspoon cayenne in this recipe, so it's mildly spicy.
For vegetables, you can use any other veggies you have on hand instead of bell peppers and onions. I would recommend keeping the corn, and using some type of bean (such as black beans) if not pinto.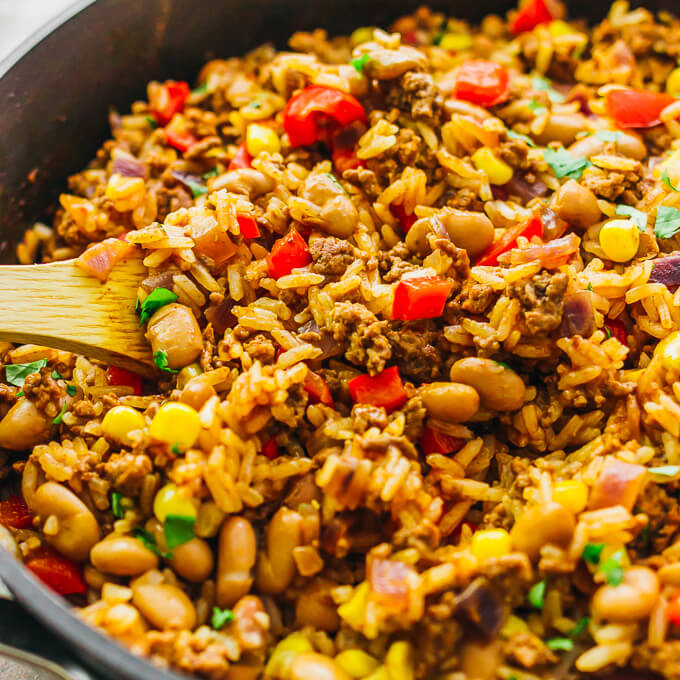 The recipe moves fast, so get all of your ingredients chopped, measured, and ready to go before you start heating up the pan and browning the beef.
If you love Southwestern flavors, I also recommend you check out this Southwest couscous salad that's great as a refreshing and delicious side dish, salsa verde huevos rancheros for breakfast or brunch, and these chicken and black bean burritos.