Summary:
This low carb soup features ground beef, deliciously tender cabbage, and tomatoes. Everything is conveniently cooked in a single pot on the stovetop, and leftovers can be enjoyed for lunches throughout the week. Got a pressure cooker? Check out Instant Pot Cabbage Soup.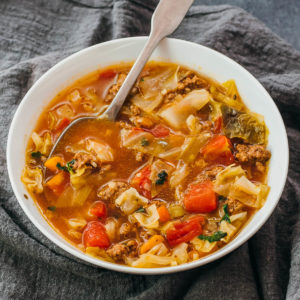 INGREDIENTS
INSTRUCTIONS
Brown Beef: Add beef and carrots to large pot (Note 5) over medium-high heat. Crumbling beef with stiff utensil, cook until browned, about 5 minutes.

Add Everything Else: Keeping everything in pot, add tomatoes (including liquid in can), cabbage, beef stock, cauliflower, salt, oregano, and thyme. Stir everything together for a minute.

Simmer Soup: Increase heat and bring to simmer. Cover, then decrease heat to medium-low to maintain simmer. Simmer until cabbage is very tender, about 30 minutes.
NUTRITION
Makes 8 Servings
Amount Per Serving (1.3 cups):
| | |
| --- | --- |
| Calories 160 (43% from fat) |   |
| Total Fat 7g | 11% |
|    Saturated Fat 3g | 14% |
| Cholesterol 38mg | 13% |
| Sodium 1080mg | 45% |
| Net Carb 6g |   |
| Total Carb 8g | 3% |
|    Dietary Fiber 2g | 7% |
|    Sugars 5g |   |
| Protein 13g |   |
PHOTOS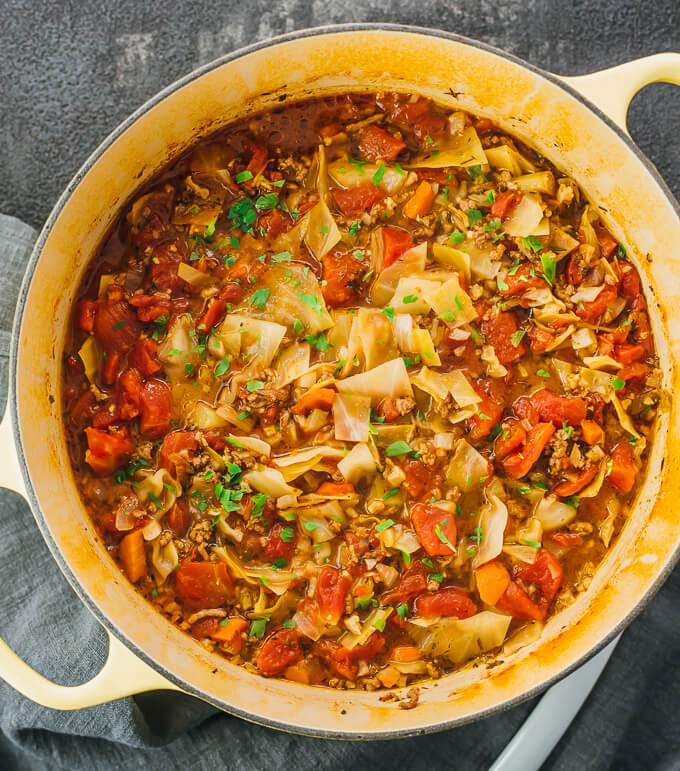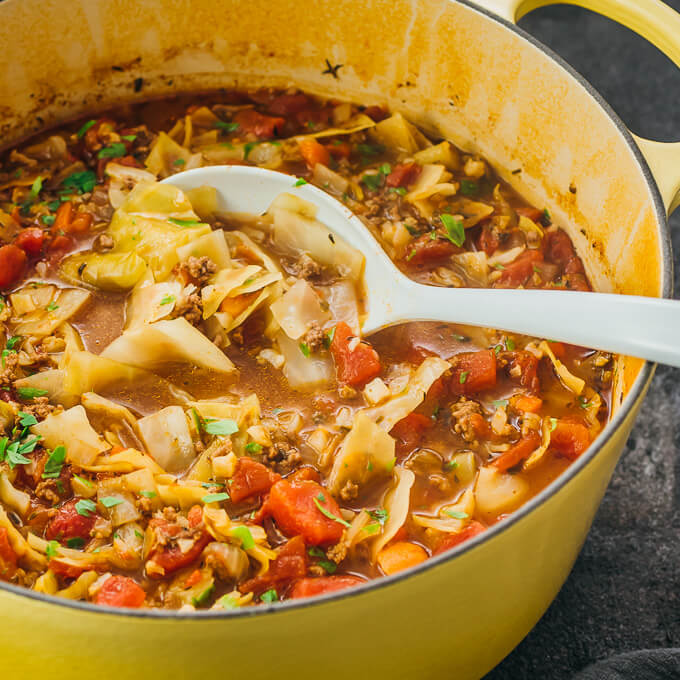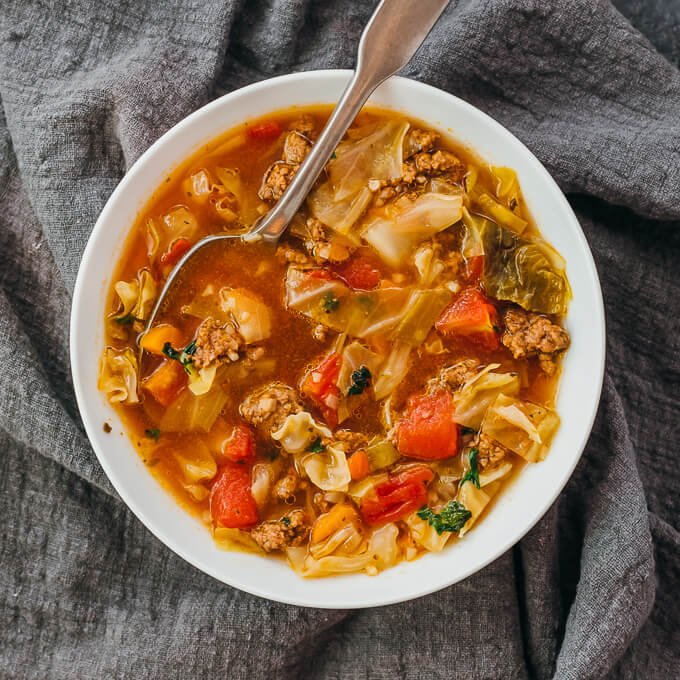 NOTES & TIPS
(1) Ground Beef. I use 80% lean ground beef. If you don't have beef, ground turkey is a good substitute. For an extra meaty soup, use up to 1.5 pounds of meat.
(2) Green Cabbage. About 1/2 head of green cabbage. You can substitute with other types, like purple cabbage.
(3) Beef Stock. Since beef stock often comes in 4-cup cartons, you can substitute with 4 cups beef stock and 1 cup water. For a thinner soup, stir in extra beef stock or water after cooking in Step 4.
(4) Riced Cauliflower. You can use fresh or frozen. I recommend picking up a bag of pre-riced cauliflower in the produce section or freezer aisle of U.S. grocery stores — easier than grating cauliflower florets with a box grater or food processor.
(5) Large Pot. I use a 6-quart dutch oven. Other kinds of pots with similar or greater capacity will also work, equipped with a fitting lid. The pot does not need to be preheated or greased before adding ingredients.
(6) Serving. Serve this hearty soup while hot, topped with parmesan crisps or a sprinkle of ground flaxseed, and with a side of simple greens or broccoli salad.
(7) Saving For Later. If you have leftovers, or you're making this ahead of time, store individual servings of the soup in airtight containers in the refrigerator for up to 5 days. Reheat in the microwave. This soup also freezes reasonably well; defrost overnight in the refrigerator then reheat in the microwave.