Summary:
Tender strips of chicken coated in a rich and creamy sauce with sun-dried tomatoes and spinach, served over a bed of zucchini noodles. Add this tasty meal to your dinner rotation along with other Instant Pot recipes.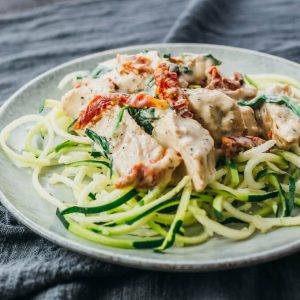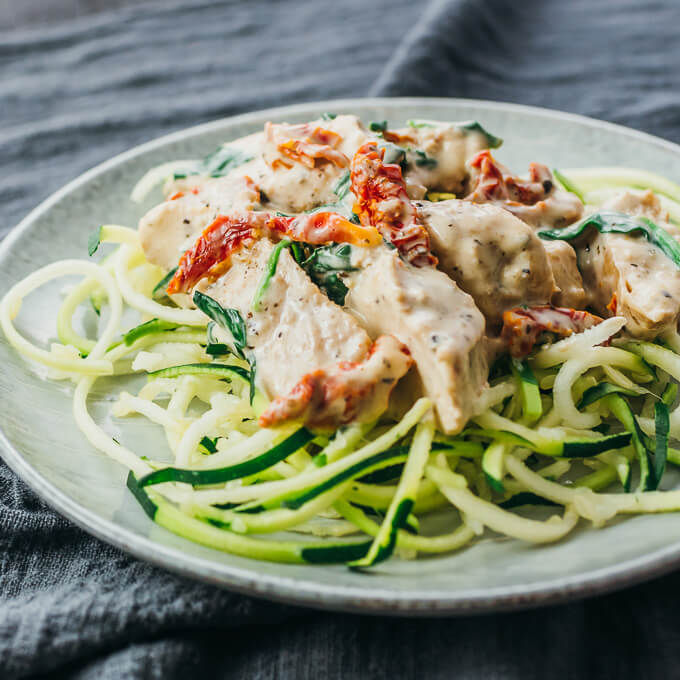 Instant Pot Creamy Chicken With Sun-Dried Tomatoes And Spinach
INGREDIENTS
2

boneless skinless chicken breasts (1 pound total)

1

cup

roughly chopped fresh baby spinach (1 ounce weight)

1/2

cup

heavy whipping cream

1/3

cup

finely grated parmesan cheese

1/2

cup

water

1/4

cup

chopped sun-dried tomatoes (0.7 ounce weight)

2

tablespoons

cream cheese (1 ounce weight)
INSTRUCTIONS
Slice each chicken breast in half horizontally to make them thinner. Pat dry with paper towels.

Combine all seasoning ingredients in a small bowl and stir until well-mixed. Evenly spread the seasoning over both sides of every chicken piece.

Select the sauté mode on the pressure cooker for medium heat. When it has reached temperature, add the seasoned chicken pieces to the pot, arranging them in a single layer if possible.

Sauté until the chicken is lightly browned on both sides, about 2 minutes per side. Turn off the sauté mode.

Add water to the pot. Lift up each chicken piece as you scrape up any brown bits stuck to the bottom of the pot.

Check that the chicken pieces are evenly distributed, and that there is enough water to cover the bottom of the pot (if not, add water to cover).

Secure and seal the lid. Cook for 3 minutes at high pressure. As soon as it's done, manually release pressure by gradually turning the release knob to its venting position.

Uncover and transfer the chicken to a plate, leaving the liquid in the pot. Discard half of the liquid, about 1/3 cup, so that the remaining liquid only barely covers the bottom of the pot.

Select the sauté mode for medium heat. Add heavy cream and cream cheese, stirring until the cheese has melted. Let the sauce simmer for a few minutes until thickened, stirring occasionally. While simmering, cut the chicken into strips. Turn off the saute mode.

Add sun-dried tomatoes, spinach, and parmesan cheese to the pot, stirring them in for a few seconds.

Transfer the chicken pieces back to the pot, stirring so they soak up the sauce. Serve while hot, optionally with a side of vegetables.
NUTRITION
Makes 2 Servings
Amount Per Serving:
| | |
| --- | --- |
| Calories 750 (58% from fat) | |
| Total Fat 48g | 74% |
| Saturated Fat 24g | 121% |
| Cholesterol 260mg | 87% |
| Sodium 930mg | 39% |
| Net Carb 6g | |
| Total Carb 7.5g | 2% |
| Dietary Fiber 1.5g | 6% |
| Sugars 3g | |
| Protein 60g | |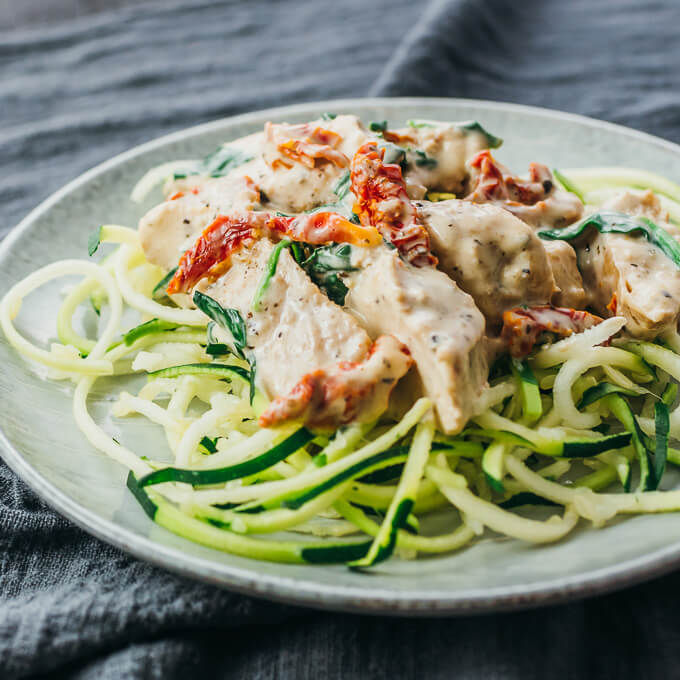 This Instant Pot creamy chicken is a fabulous low carb dinner that takes less than 15 minutes of cooking time in an electric pressure cooker. Imagine juicy and tender bites of chicken, seasoned with Italian herbs and garlic, soaked in a thick and flavorful white sauce made with heavy cream, parmesan cheese, and cream cheese. It's like a keto dieter's dream come true. The spinach adds some texture to every bite, and the sun-dried tomatoes provide occasional bursts of tartness. You can serve this creamy chicken over anything you want, and I usually prefer spiralized vegetables like zucchini or radish spaghetti-style "noodles."
Seasoning the chicken breasts: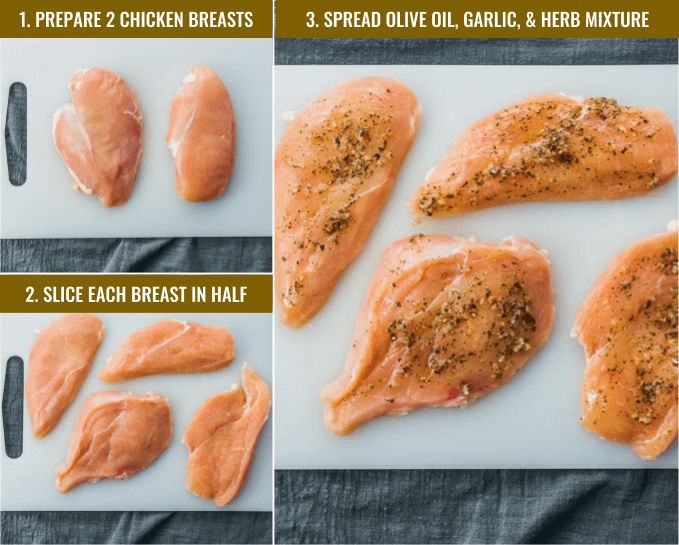 I developed this Instant Pot recipe by adapting one of my older recipes, a creamy sun-dried tomato chicken skillet. The ingredients are very similar, and it's one of Mr. Savory Tooth's favorite recipes, so it only took a few tries to perfect. I actually prefer this Instant Pot version more, because its sauce is richer with a stronger flavor.
This recipe was designed for a 6 quart pressure cooker. If you use a larger size such as 8 quarts, I recommend doubling the ingredients but keeping the pressure cooking time the same. As it is, the recipe doesn't make a large amount and is intended to only feed two people with no leftovers.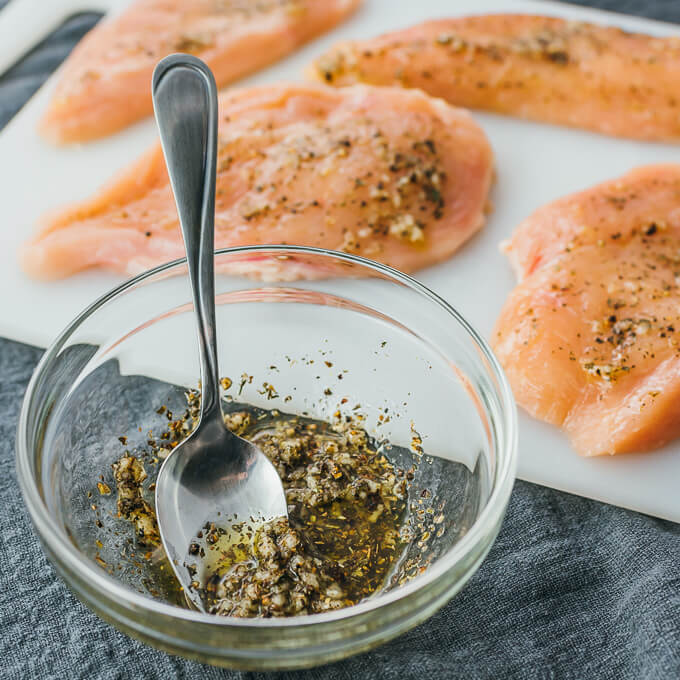 A few notes about the ingredients:
I use parmesan cheese that's very finely grated with a sandy consistency, which helps it melt and absorb quickly into the sauce.
The sun-dried tomatoes are the dry packaged variety, not the kind in oil. I buy them at Trader Joe's and they come already chopped with a julienne cut.
For the dried herbs, I usually use oregano for its stronger flavor. You can use any kind of Italian dry seasoning blend.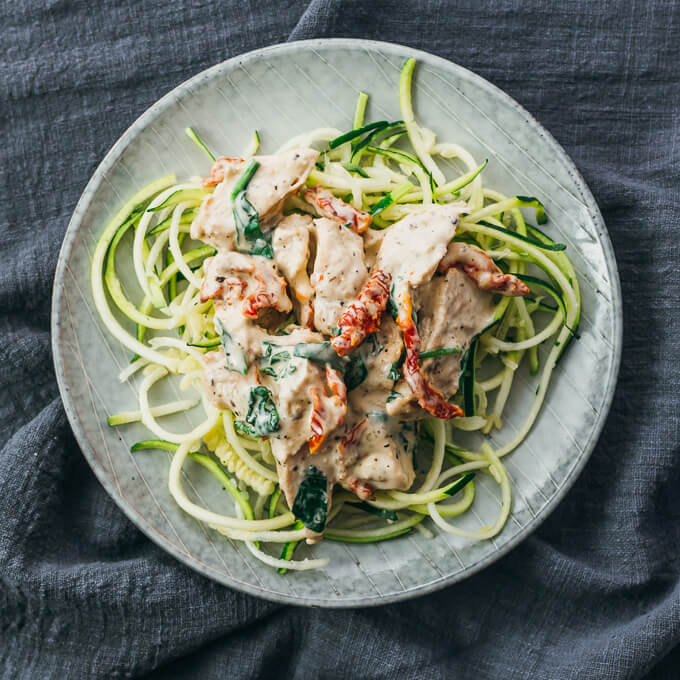 MORE DELICIOUS INSTANT POT RECIPES: