Summary:
These carnitas are so versatile because you can use them for just about everything: tacos, burritos, you name it.
Slow cooker shredded chicken carnitas
INGREDIENTS
1 to 1.5

pounds

chicken breasts

skinless and boneless

1

large orange bell pepper

sliced into long strips

1

small jalapeño

chopped with seeds and inner membranes removed (or omit if spiciness isn't your thing)

4

cloves

of garlic

minced

1

tablespoon

dry minced onion

1/4

teaspoon

oregano

1/4

teaspoon

cumin

1/4

teaspoon

salt

1/4

teaspoon

pepper

juice from 1 navel orange

about 1/4 cup
INSTRUCTIONS
Slow cooking the chicken: Add the chicken, onion, oregano, cumin, salt, and pepper to the slow cooker. Toss the chicken so that it gets coated in the seasonings. Then add garlic, jalapeño, and bell pepper on top. Lastly, pour over the orange juice. Cover and cook on low for 8 hours.

Shredding the chicken: Turn off the slow cooker and remove only the chicken, leaving the juices and everything else in the slow cooker. Let the chicken cool a bit and then shred it using two forks.

Searing the chicken: Heat a medium pan over high heat. Use tongs to move the shredded chicken onto the pan and cook until the bottom side is browned and crusty, pressing down on the chicken with a spatula. When done, use tongs to move the chicken onto a platter and pour all of the remaining contents (delicious juices and pepper bits) of the slow cooker over the chicken.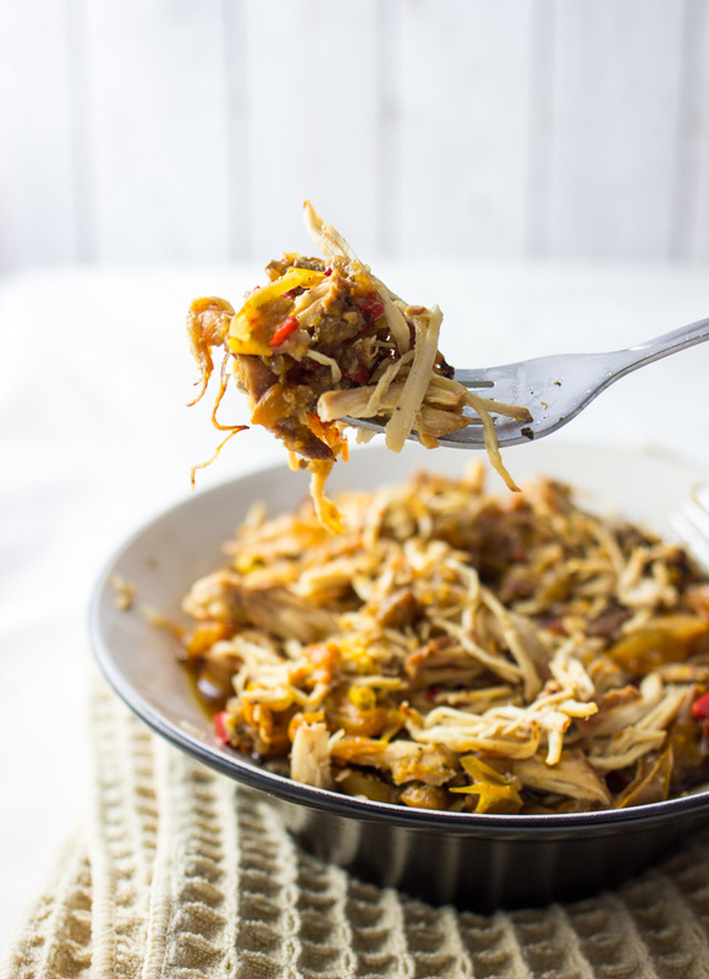 I love this recipe because it is so easy and versatile. It's easy because you throw a bunch of stuff in the slow cooker and walk away, only to return to delicious, easily shreddable chicken. It's versatile because you can use these chicken carnitas for just about everything: tacos, burritos, you name it. For tacos, I recommend using 8 six-inch tortillas for the amount of carnitas that this recipe makes, and add some salsa or chopped tomatoes to make it less dry.You'll also notice that this recipe calls for only a pound or a pound and a half of chicken. So this is perfectly sized for a single dinner. Also, there's no broiling needed! There are way too many carnitas recipes that call for broiling after slow cooking the chicken. Why deal with the broiler when you don't really need to? Here, I just grab a pan and pan-sear the chicken a bit, and it gives the food the same effect.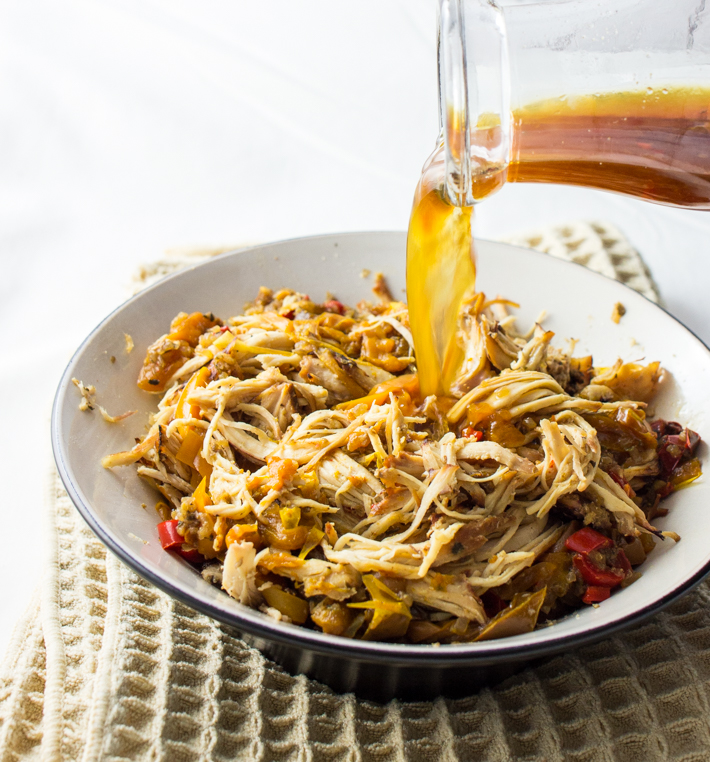 These carnitas use simple, everyday ingredients. You probably already have most of these things in your pantry. This is a great dish to make if you're looking to use up some leftover chicken. Also, these carnitas freeze well and can be saved for later.

I was also excited to make this dish so I could finally use some of my homegrown jalapeños. I've been growing 4 jalapeño plants all winter in indoor pots, and they've yielded about 15 fruits thus far. If you let them fully ripen on the plant, the jalapeños turn from their green color to a bright red color. You don't see that very often at all in supermarkets, because they usually only sell the green ones. But these red ones are also jalapeños, just simply ones that got ripened on the plant.