Summary:
This is an easy recipe for making flavorful carnitas using chicken breasts instead of pork. The meat is slow-cooked with fresh citrus juices and spices, then shredded and optionally pan-seared for a crisp finish.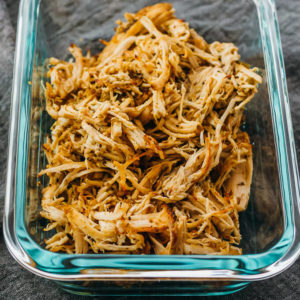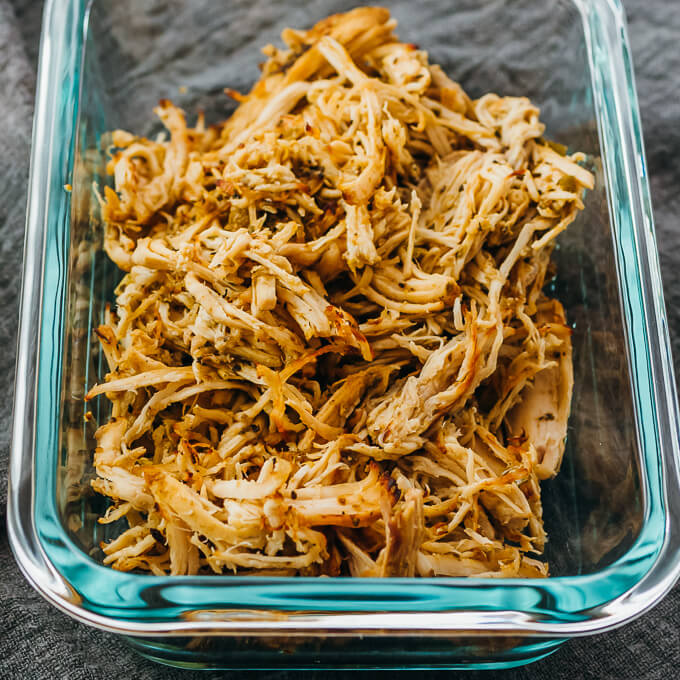 INSTRUCTIONS
Add Ingredients: Stir together garlic, jalapeño, orange juice, lime juice, and all dried seasonings in slow cooker (Note 3). Add chicken breasts and turn them a few times until coated with flavorful juices, then arrange in single layer.

Slow Cook: Cover, and cook on low heat for 8 hours or on high heat for 4 hours.

Shred Chicken: Use tongs to transfer only chicken to large bowl. Shred meat using two forks.

Optional Sear: Heat large pan (Note 4) over high heat. Use tongs to transfer shredded chicken to pan, spreading it out. Cook until browned and a bit crusty, pressing down on chicken with spatula to increase contact with hot pan and flipping meat occasionally, about 5 minutes.
NUTRITION
Makes 4 Servings
Amount Per Serving (1 cup):
| | |
| --- | --- |
| Calories 310 (19% from fat) |   |
| Total Fat 7g | 10% |
|    Saturated Fat 1g | 7% |
| Cholesterol 171mg | 57% |
| Sodium 700mg | 29% |
| Net Carb 5g |   |
| Total Carb 6g | 2% |
|    Dietary Fiber 1g | 4% |
|    Sugars 2g |   |
| Protein 53g |   |
PHOTOS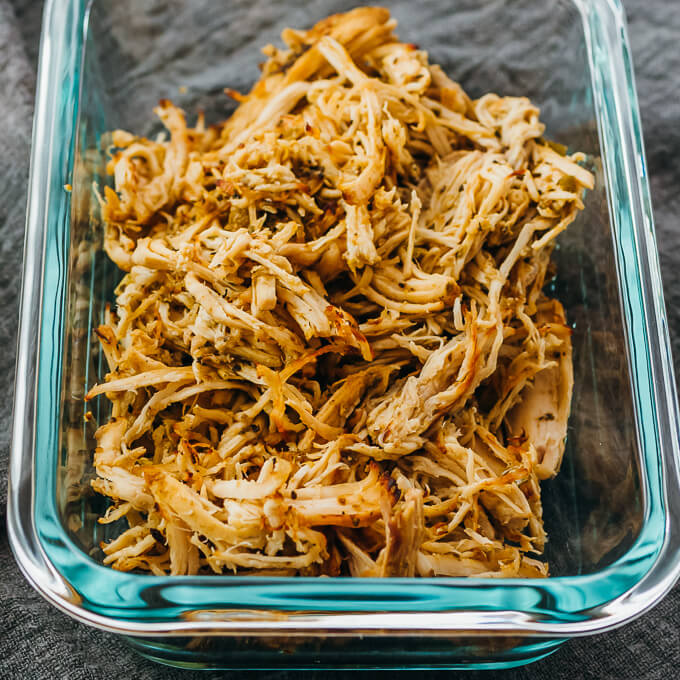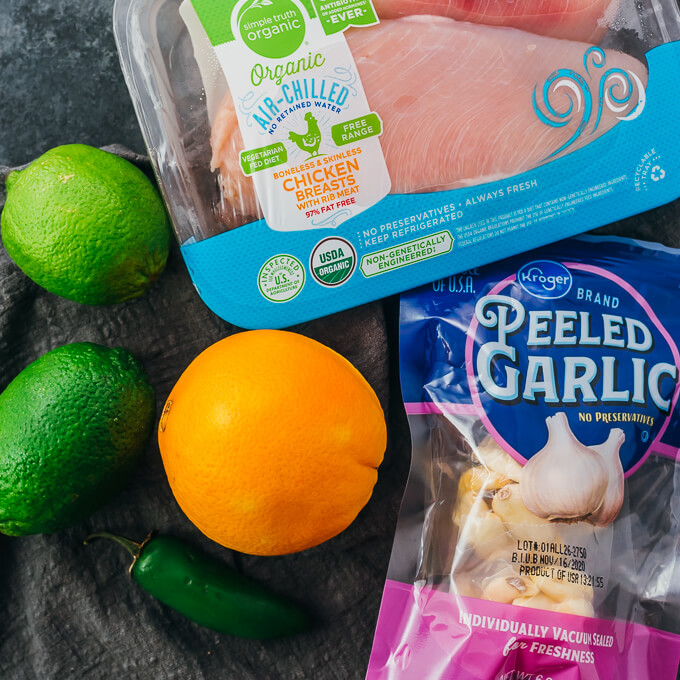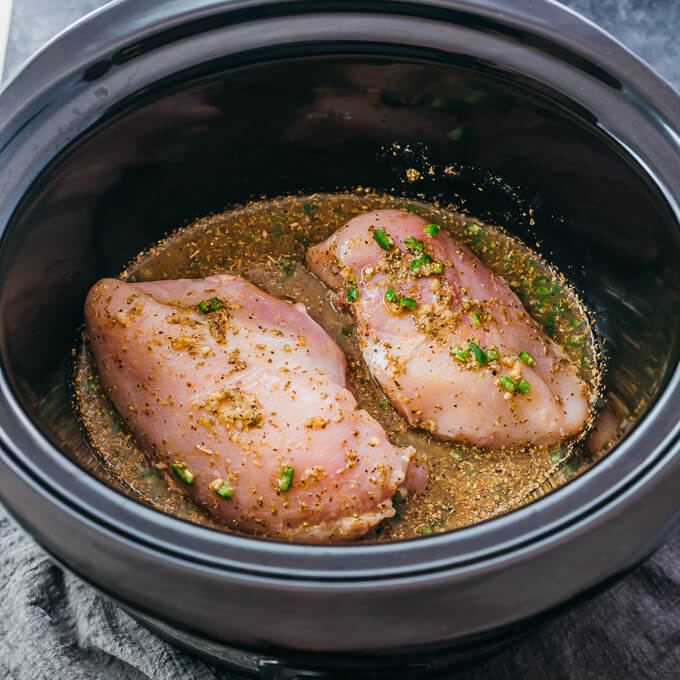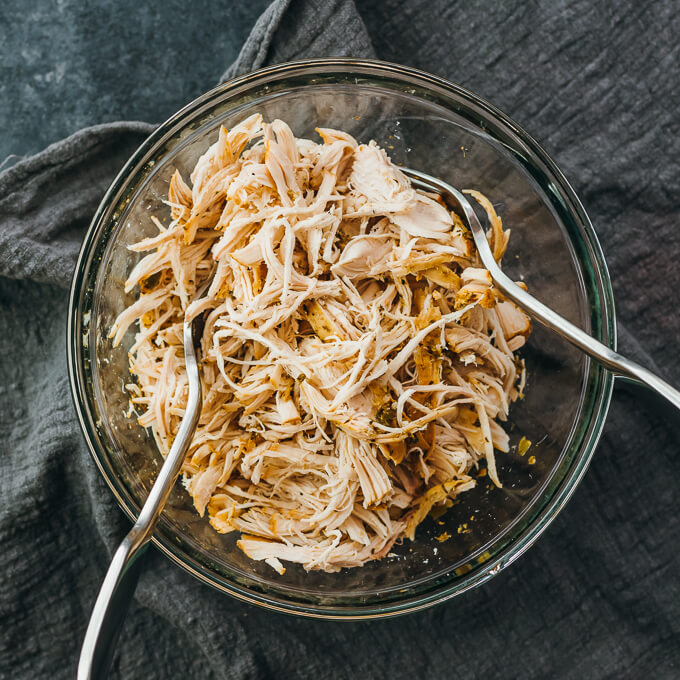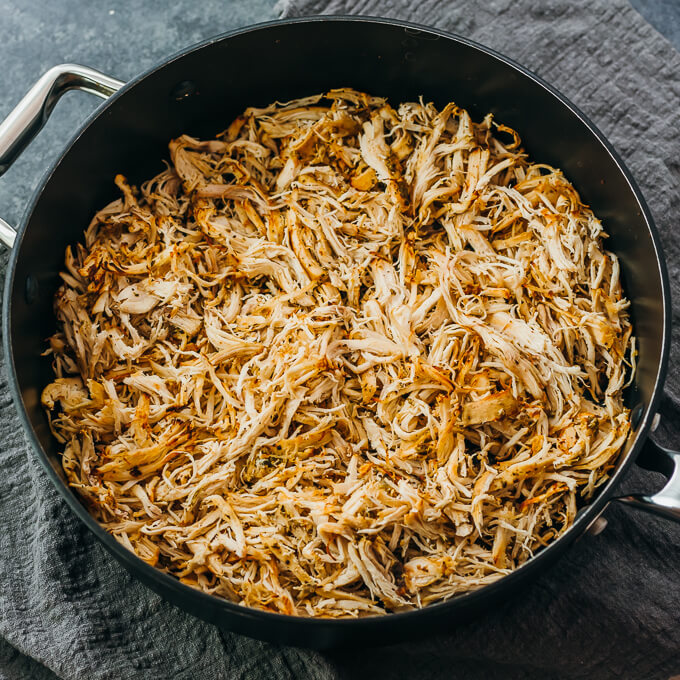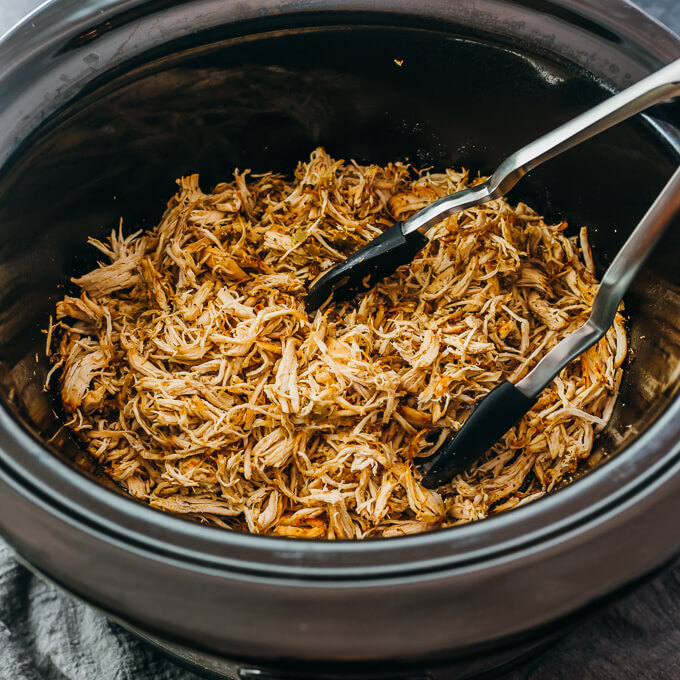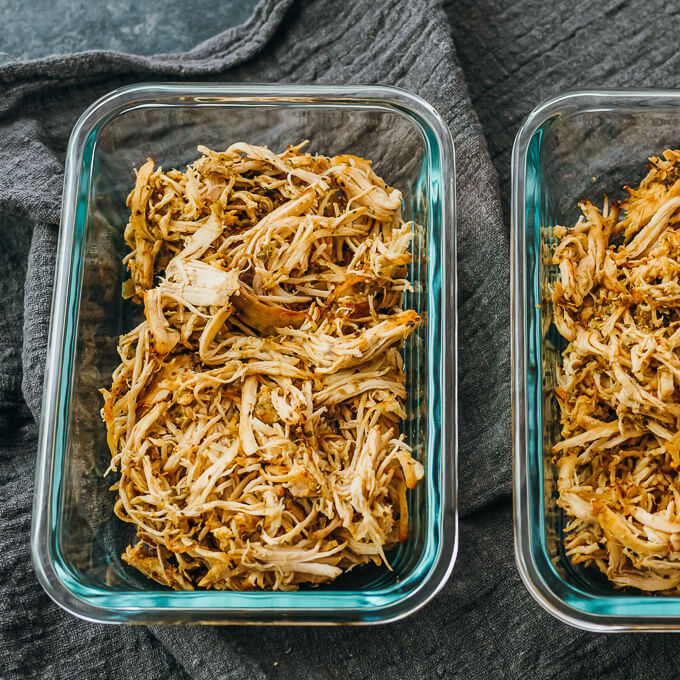 NOTES & TIPS
(1) Chicken. I use fresh chicken; if yours is frozen, defrost in the refrigerator overnight before using in this recipe.
(2) Jalapeño. To reduce spiciness, remove the seeds and membranes, or omit the jalapeño completely. To make this spicier, double the amount or replace with a serrano pepper. If you're sensitive to capsaicin, wear gloves while handling the jalapeño, especially if you come into contact with the seeds or membranes.
(3) Slow Cooker. I use a 6-quart oval slow cooker. A smaller capacity slow cooker should be fine as long as all ingredients can comfortably fit.
(4) Large Pan. I typically use a nonstick skillet or saute pan, 10 or 12 inches in diameter. This is an optional step — searing adds some color and a crisp texture, and I find it easier to do so on the stovetop rather than broiling in the oven.
(5) Tossing Meat With Juices. Cooking on high heat will result in significantly less leftover liquid in the slow cooker than low heat — operating at a higher heat level means that there is greater evaporation during cooking. Since there isn't much leftover liquid when cooking at high heat, you'll likely want to re-integrate all of it back with the shredded chicken. If your chicken was cooked at low heat, add a small amount of liquid to the shredded chicken at a time, 1/4 to 1/2 cup, until the meat is moistened to your liking.
(6) Serving. The shredded carnitas can be served with store-bought low carb tortillas to form burritos, tacos, or enchiladas, or as part of a burrito bowl. Top with tomato salsa, salsa verde, pico de gallo, guacamole, chopped red onions, sour cream, cilantro, or hot sauce. Carnitas can also be refrigerated in an airtight container to be used as ready-made meats for the week's lunches, served cold in a salad or as part of a hot meal by reheating in the microwave.