Summary:
This spaghetti puttanesca can be served hot or cold, and is a healthier pasta recipe with crushed plum tomatoes, sliced black olives, capers, minced garlic, and diced anchovies.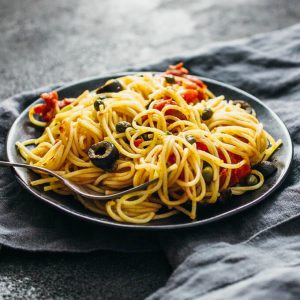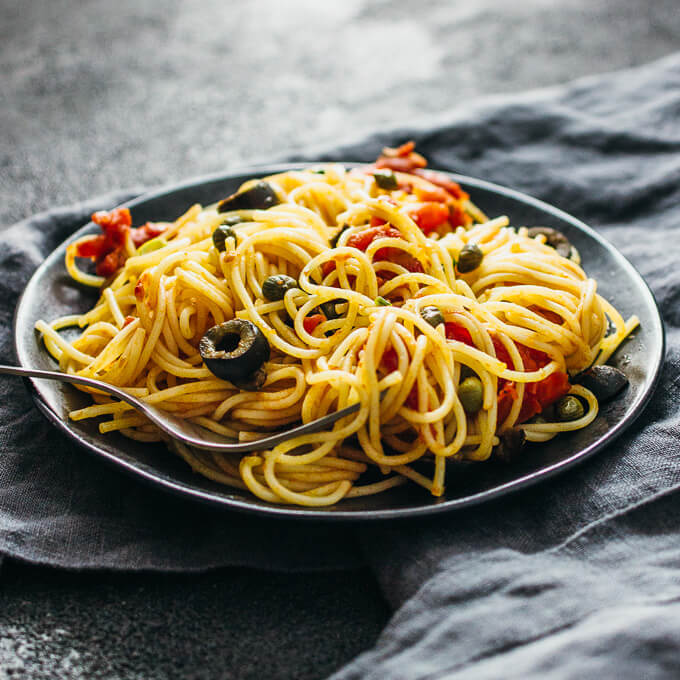 Spaghetti puttanesca with capers and olives
INSTRUCTIONS
Cook angel hair pasta according to package directions. Drain and rinse with cold water to cool. Toss with 1 tablespoon of olive oil so they do not clump.

Heat 1 tablespoon of olive oil in a large pan over medium heat. Add garlic and anchovies. Cook until the garlic browns, about 1 minute, stirring occasionally.

Add can of tomatoes to the pan including the liquid, crushing the tomatoes with your hands as you add them. Add salt and pepper. Cook until the tomatoes soften and break down, about 10 minutes, stirring occasionally.

Add cooked angel hair pasta to the pan, stirring it in until combined.

Remove pan from heat, and stir in olives, capers, and scallions. Serve.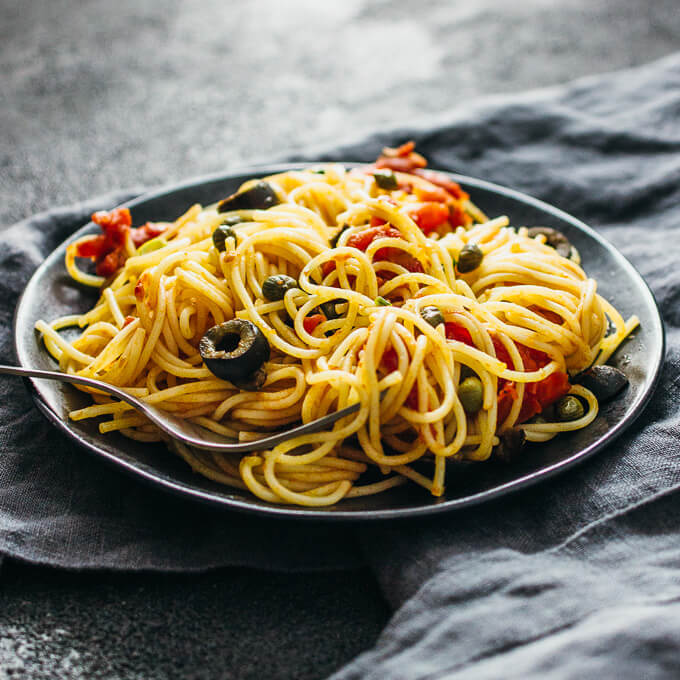 Having eaten spaghetti puttanesca at a number of different Italian restaurants over the years, I have always wondered about its interesting name. In case you haven't heard, spaghetti alla puttanesca literally means spaghetti in the style of a prostitute. If you're like me and wondering how a delicious dish became associated with such a sordid term, the origin is unclear. Some say that Italian prostitutes often made puttanesca pasta dishes for themselves to eat, and others say that the puttanesca sauce is so basic that it's a throw-together-any-kind-of-garbage pasta, hence the name. Whatever the true origin, puttanesca dishes are ridiculously vibrant and tasty. I love all of the flavors going on here, especially the olives and capers, and everything tastes so refreshing.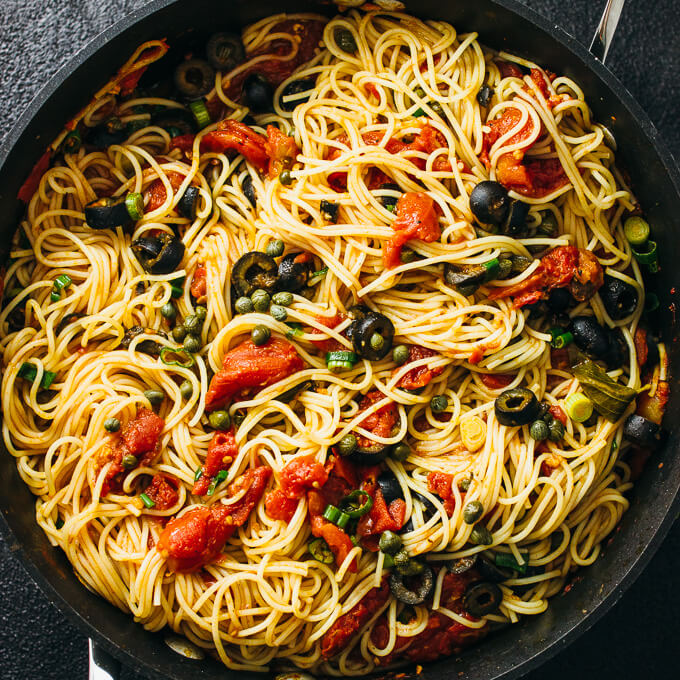 My version of spaghetti puttanesca is as simple as can be; all you need is angel hair pasta, a can of whole tomatoes, some toppings like capers and olives, and olive oil. This is one of those pastas that doesn't need a thick creamy sauce to be inviting — the liquid that comes with the tomatoes suffices as the sauce and it's plenty good that way. This pasta is so tasty that it's even amazing cold and straight out of the refrigerator. I had some leftovers that I ate cold, and I dare say it even tasted better that way.  There is no dairy in this recipe, so you can easily skip the anchovies and be left with a vegan version to serve at a dinner party.