Summary:
This teriyaki chicken bowl with broccoli and rice is a very fast stir-fry recipe for two, with an easy homemade teriyaki sauce.
Looking for low carb recipes instead? Visit the Savory Tooth Homepage.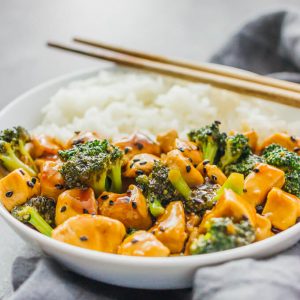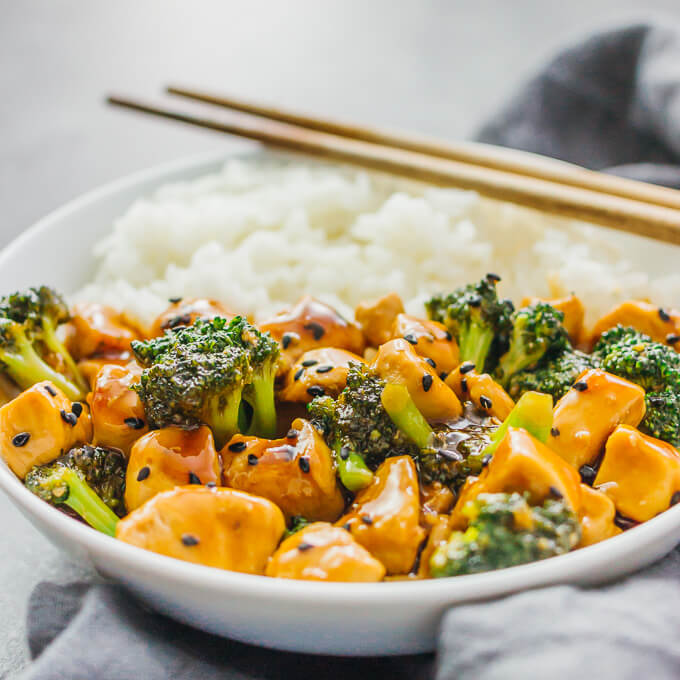 Fast Teriyaki Chicken Bowl with Broccoli and Rice
INGREDIENTS
1

pound

boneless skinless chicken breasts

cubed (1/2 - 1 inch pieces)

4

cups

small broccoli florets

1

tablespoon

canola oil
INSTRUCTIONS
Cook rice according to package instructions. After cooking, keep on the "warm" setting if using a rice cooker.

Heat canola oil in a 3-quart or larger pan over medium heat. Add chicken and sauté until cooked on all sides, about 5 minutes, stirring frequently.

Add broccoli to the pan, stirring with the chicken. Cook until the broccoli is tender and the chicken is cooked through, 5-10 minutes, stirring frequently.

While waiting for the broccoli and chicken to cook, combine all teriyaki sauce ingredients in a bowl, stirring until smooth.

Add teriyaki sauce to the pan, stirring it with the broccoli and chicken. Cook until it thickens and becomes sticky, a few minutes, stirring constantly.

Serve in bowls with cooked rice. Optionally top with black sesame seeds.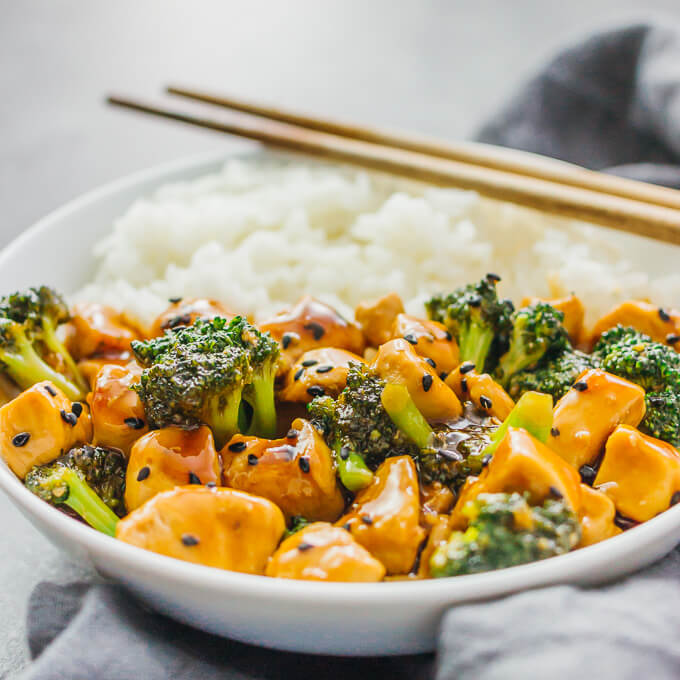 This teriyaki chicken bowl is really fast, simple, and delicious. It's perfect for a lazy dinner at home for two, with no leftovers to contend with, and it all cooks in a single pan. This recipe takes me about 15 minutes for prep work and another 15 minutes for actual cooking, so everything comes together conveniently fast. It leaves me more than enough time to make some tasty appetizers to go with it, such as these vegetable egg rolls and cream cheese fried wontons. The first time I made this teriyaki chicken bowl was on a Monday evening, after one of those crazy Mondays, and this recipe was easy to throw together even after a busy day.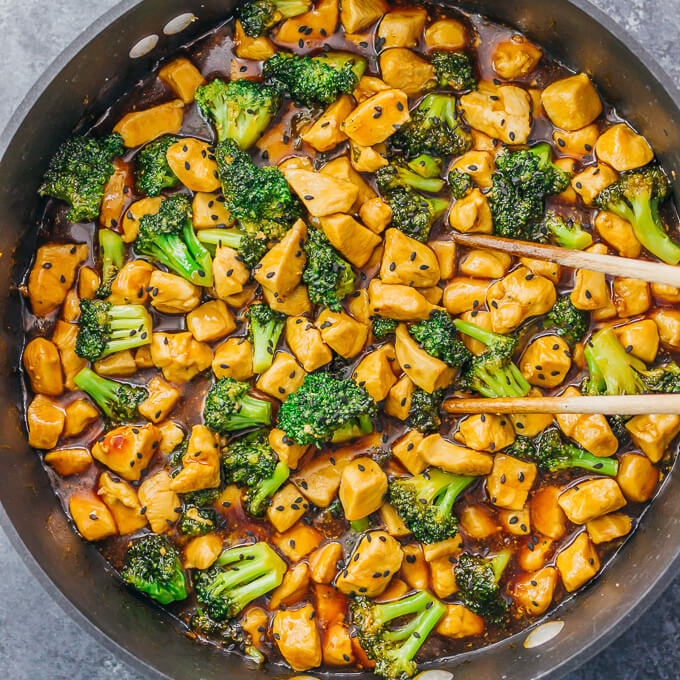 Homemade teriyaki sauce is surprisingly easy to make — all you need is some soy sauce, brown sugar, garlic, corn starch, and ground ginger. These ingredients are mixed together before adding them to the hot pan with chicken and broccoli. As the sauce heats up in the pan, it will thicken into a savory glaze to gloriously coat the cubed chicken and broccoli florets. You can easily have a thinner or thicker sauce, by letting the sauce simmer longer for a thicker sauce.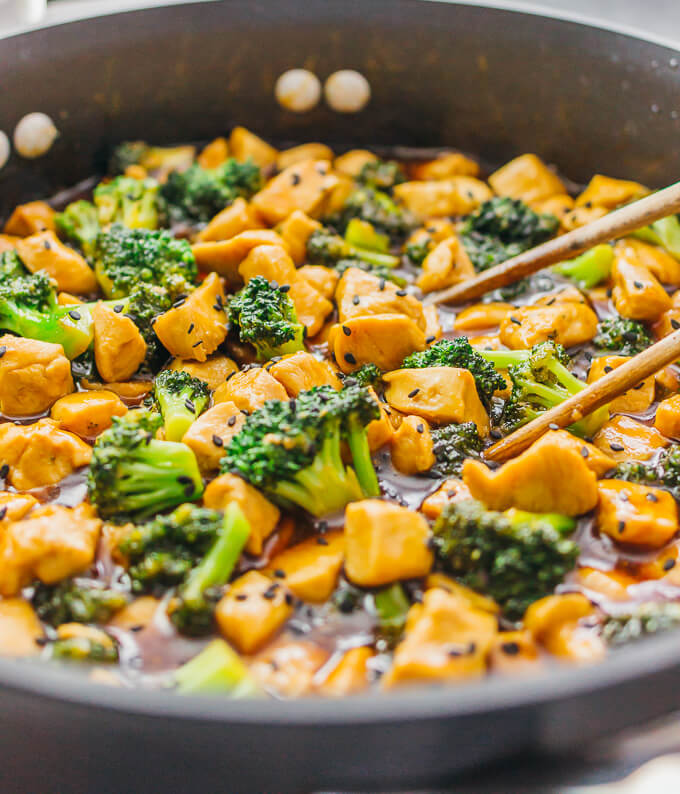 Ever since I made my beef and broccoli recipe, I've been looking for more excuses to use broccoli in my stir-fry dishes, as I have in this teriyaki chicken bowl. The broccoli has crisp-tender texture and is always delicious. For these stir-fry recipes, I typically use fresh broccoli; if you use frozen broccoli, be sure to first completely thaw it and then drain of any excess water. To thaw broccoli, I recommend running cold water over the frozen broccoli in its packaging.
If you are eating this teriyaki chicken bowl solo and you have leftovers, you can store them in the refrigerator and reheat using the microwave. Leftovers reheat well, so they make for delicious next-day lunches at the office.