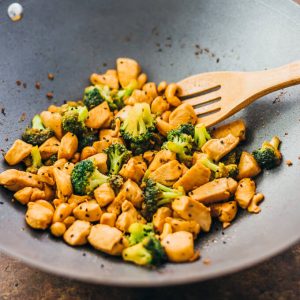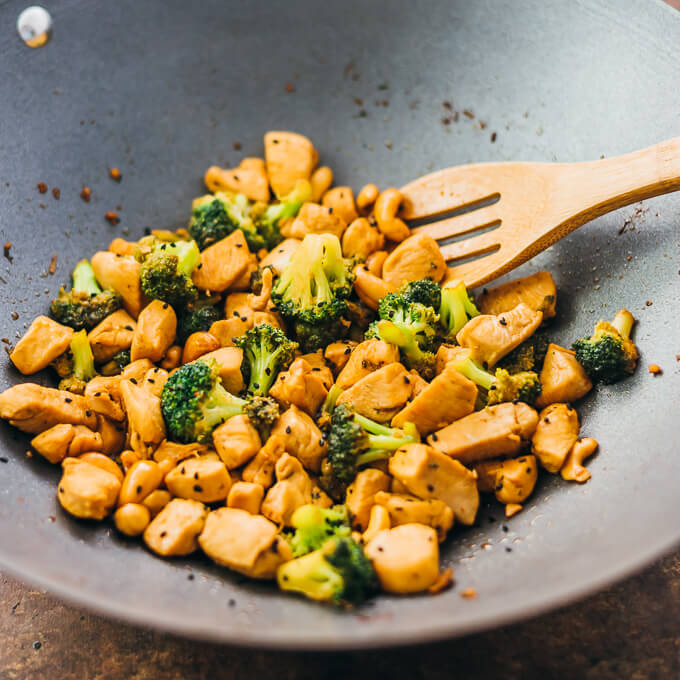 Cashew Chicken and Broccoli Stir Fry
DESCRIPTION
This is an easy 30-minute recipe for cashew chicken and broccoli that's healthy and low in carbs.
INGREDIENTS
1

pound

boneless skinless chicken breasts

chopped into bite-sized pieces

4

cups

small broccoli florets

stems removed

1/4

cup

cashews

2

tablespoons

canola oil
INSTRUCTIONS
Combine sauce ingredients in a small bowl and stir to mix well. Set aside.

Heat canola oil in a wok or pan over medium-high heat for a few minutes or until hot. Add chicken chunks and broccoli. Cook until the chicken is cooked through and the broccoli is tender, 5 to 10 minutes, stirring frequently.

Decrease heat to medium-low. Evenly pour sauce over the chicken and broccoli, immediately stirring until well-coated with the sauce. Stir in cashews. Cook for another few minutes to thicken the sauce a bit, stirring occasionally.

Turn off the heat. Top with sesame seeds, scallions, and sesame oil. Serve immediately.
NUTRITION
This recipe yields 11.5 g net carbs per serving.
Nutrition Facts Per Serving
| | |
| --- | --- |
| Calories 610 |   |
| Total Fat 31g | 48% |
|    Saturated Fat 4g | 20% |
|    Trans Fat 0.1g |   |
| Cholesterol 132mg | 44% |
| Sodium 700mg | 29% |
| Potassium 600mg | 17% |
| Total Carb 17g | 6% |
|    Dietary Fiber 5.5g | 21% |
|    Sugars 7g |   |
| Protein 61g |   |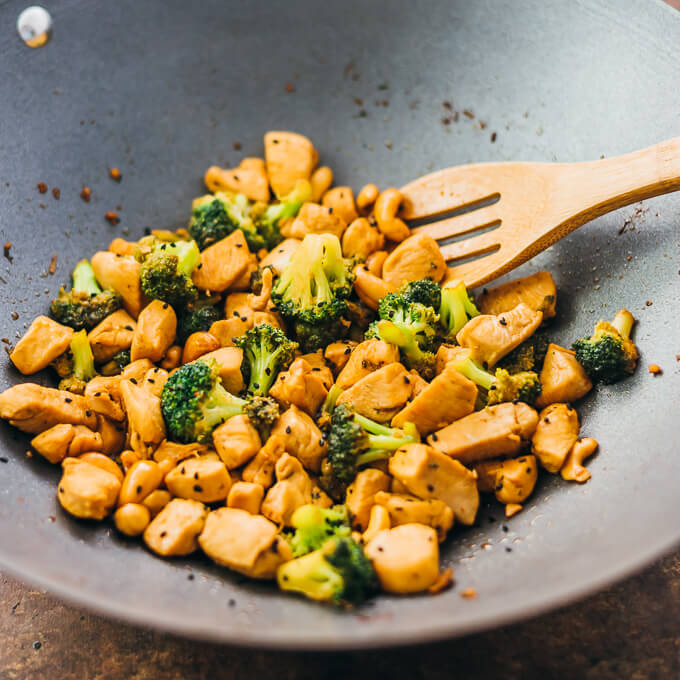 I love adding nuts to my stir fry dishes for that added crunch — like in this Kung Pao chicken — and this cashew chicken dish is no different. It's a hearty dish with generous chunks of chicken sauteed with soy sauce, sriracha, garlic, and ginger. The broccoli is cooked until soft and tender, and tastes fabulous with all of the flavors going on.
Just before serving, I drizzle a little sesame oil over the dish and scatter some sesame seeds and thinly sliced scallions. Yum. Sesame oil is one of my favorite pantry items because of its unique flavor, and so I often use it in dipping sauces.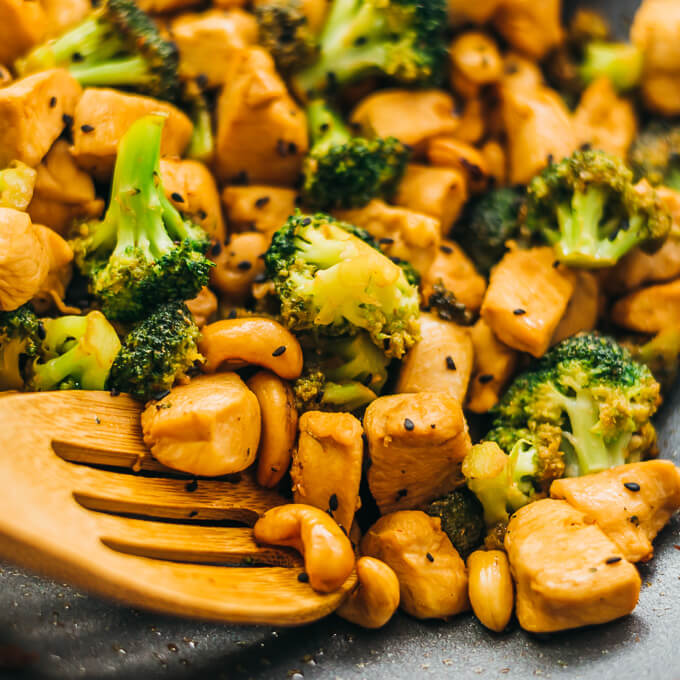 This cashew chicken and broccoli stir fry clocks in at under 16 grams of net carbohydrates, or 8 grams per serving. It's low in carbs and perfect for a keto friendly dinner. Mr. Savory Tooth and I started the keto diet about two weeks ago, as we're both interested in eating healthier and allowing our bodies to be fat-adapted instead of relying on carbs for energy.
I've been reading The Obesity Code by Jason Fung in order to learn more about nutrition and how food affects our body. It's been a huge eye-opener, to say the least, and I feel like my mind is blown after each chapter. It's crazy how much incorrect information is still being propagated by dietitians and the government itself on what and when we should be eating.
Back to this recipe. The broccoli is cooked until very tender, which is how I like mine done. If you prefer yours to be crisper and less tender, you can add the broccoli to the pan about five minutes before the chicken is done cooking. Or, you can cook the broccoli separately to make sure its texture is just how you like it.
A quick tip about the chicken: it's best if you chop it into similarly sized pieces, so that they cook at the same rate, otherwise some smaller chunks may be overcooked. I cut mine into about 1/2 – 3/4 inch chunks, which are nicely bite-sized.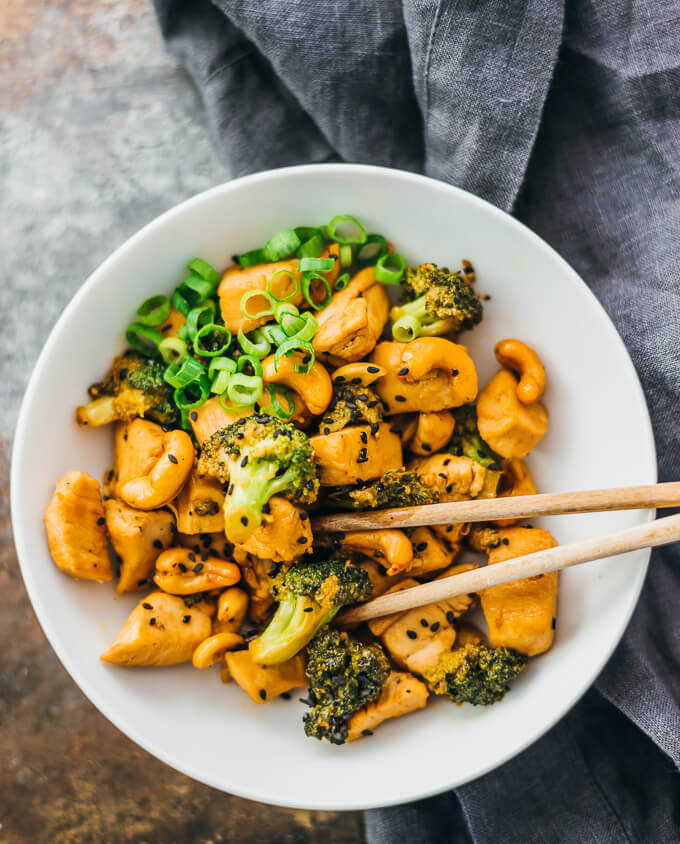 Watch this step-by-step recipe video below to learn how to make cashew chicken and broccoli:

If you love Asian chicken skillet dishes, try out my best chicken tikka masala recipe for some delicious homemade Indian food.