Summary:
The ubiquitous green smoothie. This is a staple in my household; I make this almost every day for Mr. Savory Tooth and myself.
Looking for low carb recipes instead? Visit the Savory Tooth Homepage.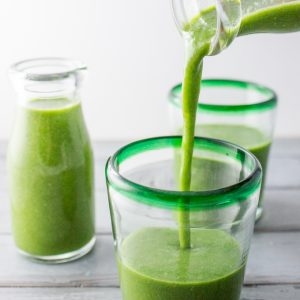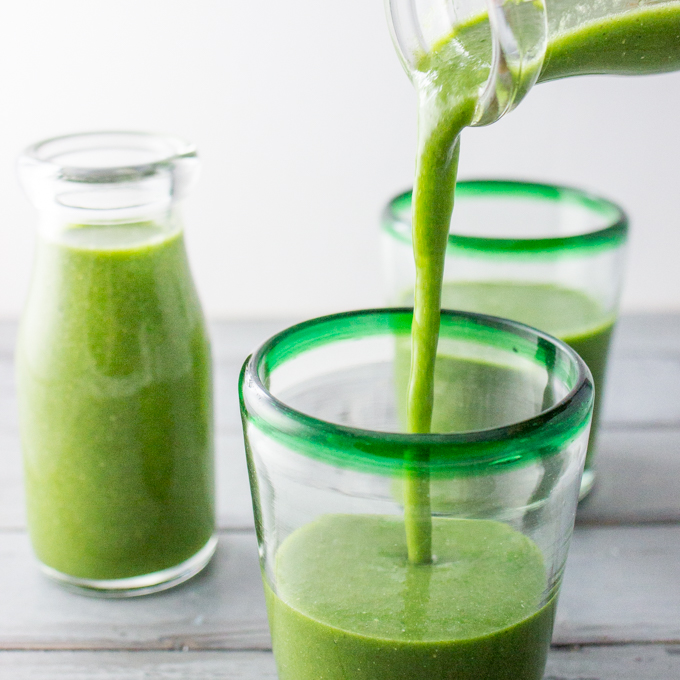 INGREDIENTS
60

grams

of kale

or other leafy greens like collards and spinach

40

grams

of mango chunks

peeled and cut into 1-inch cubes (this is easy to buy in frozen bags)

40

grams

of pineapple chunks

cut into 1/2-inch pieces (also easy to buy in frozen bags)

half a banana

for smoothness

1

tablespoon

chia seeds I also like flax seeds

1

tablespoon

oats

1.5

cups

water

or until the smoothie reaches your desired consistency
INSTRUCTIONS
Measure and place all of the ingredients into the blender container. Optional: Allow the ingredients to sit overnight in the refrigerator.

Add water. Blend until smooth and serve immediately.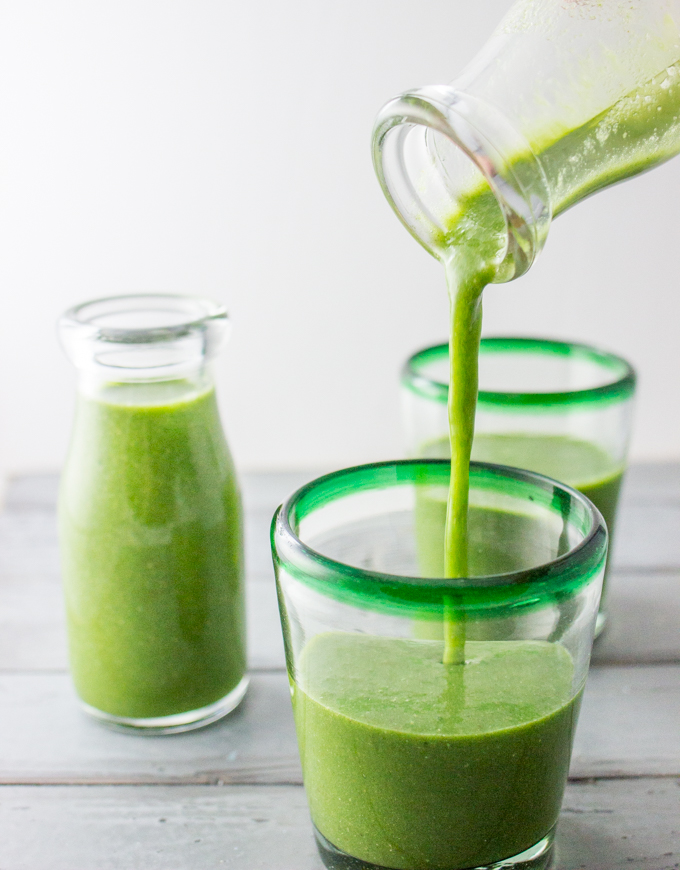 The ubiquitous green smoothie. This is a staple in my household; I make this almost every day for Mr. Savory Tooth and myself. I drink this first thing in the morning, and it's quick and refreshing. In my experience, people who try smoothies and get turned off by it are usually not using the right ingredients for their blender. And then they end up with goopy globs in their smoothies and the texture turns them off, or it tastes too much like drinking a salad.
First of all, if you have a Vitamix or Blendtec, you can blend anything for your smoothies. So this doesn't apply to you, as you can blend all-frozen ingredients with lots of fruit skins and still get perfectly smooth drinks. If you have any other blender, you will probably run into problems. This can be avoided if you (1) defrost your frozen fruits and vegetables the night before in the fridge, and (2) use fruits without skins, and (3) add in the correct amount of water to get your desired consistency. As for me, I have been using a Nutribullet with great success.
Personally, I assemble all of my ingredients the night before in my blender container, and place that in the fridge. This allows the frozen ingredients to defrost and allow for easier and smoother blending. The next morning, I take out my blender container, pour in the desired amount of water, and blend my ingredients. Pretty simple for my typically hectic mornings. Additionally, I use fruits like mangoes and pineapples, which don't have edible skins and taste great. It is especially important to include pineapples because no other fruit hides the taste of leafy greens as well as pineapple.  Lastly, if the smoothie is too thick and the vegetable flavor is a little too strong, you can get it to taste more juice-like by simply adding more water next time.
In the recipe, I am pretty picky about the amount of leafy greens to add, so I always weigh it. It's listed here in units of grams (instead of vague terms like "handfuls"). On the other hand, I'm not picky about the amount of fruits and water. You should start off small, and keep adding fruits until that the vegetable taste is smothered, and you should keep adding water until the texture is as desired.