Summary:
These "ranch-style eggs" are inspired by a mid-morning breakfast enjoyed by ranchers on rural Mexican farms: fried eggs and fresh toppings served over tortillas. To make this, you only need a handful of simple ingredients, but they pack a ton of flavor. My version is low carb, keto, and vegetarian.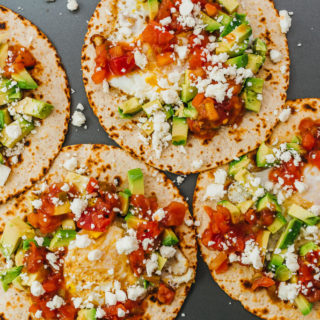 INGREDIENTS
INSTRUCTIONS
Warm Tortillas (Note 4): Set aside sheet pan or 4 serving plates to hold tortillas. Heat skillet over medium heat until hot, a few minutes. One at a time, place tortilla on skillet and cook until warmed, about 1 minute per side, then transfer to prepared sheet pan or serving plates.

Cook Eggs: Add 1/2 tablespoon olive oil to now-empty skillet over medium heat. Crack 2 eggs on opposite sides of skillet, cooking until whites are nearly cooked through, 2 to 3 minutes. Flip eggs with spatula and cook another 30 seconds to firm up other side, then transfer to tortillas. Add remaining olive oil to pan, and repeat with remaining 2 eggs.

Add Toppings: Chop avocado and divide among tortillas. Spoon about 2 tablespoons of salsa and 1 tablespoon crumbled cheese onto each tortilla. Season with black pepper, and serve (Notes 5-6).
NUTRITION
Makes 4 Servings
Amount Per Serving:
| | |
| --- | --- |
| Calories 270 (67% from fat) |   |
| Total Fat 20g | 30% |
|    Saturated Fat 4g | 22% |
| Cholesterol 195mg | 65% |
| Sodium 580mg | 24% |
| Net Carb 6.5g |   |
| Total Carb 18g | 6% |
|    Dietary Fiber 11.5g | 46% |
|    Sugars 2.5g |   |
| Protein 14g |   |
PHOTOS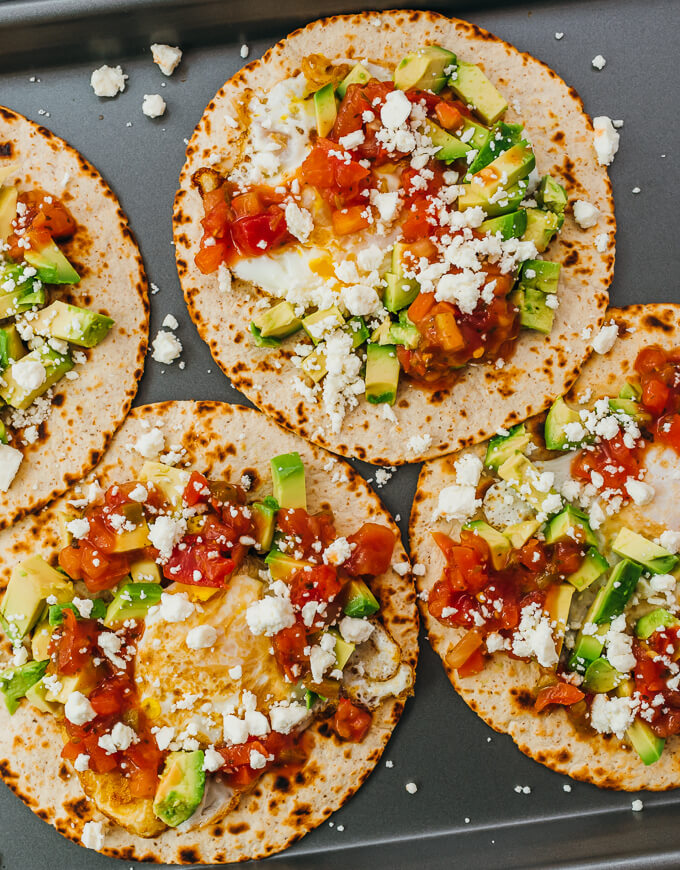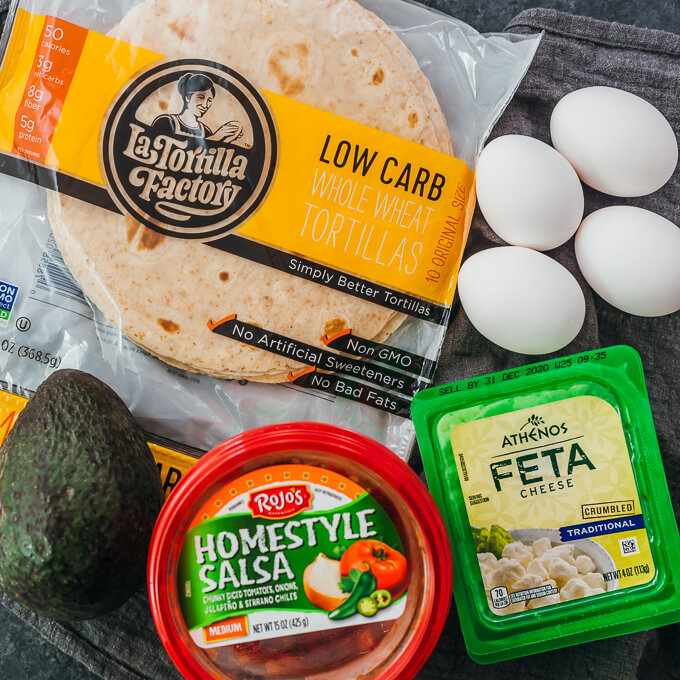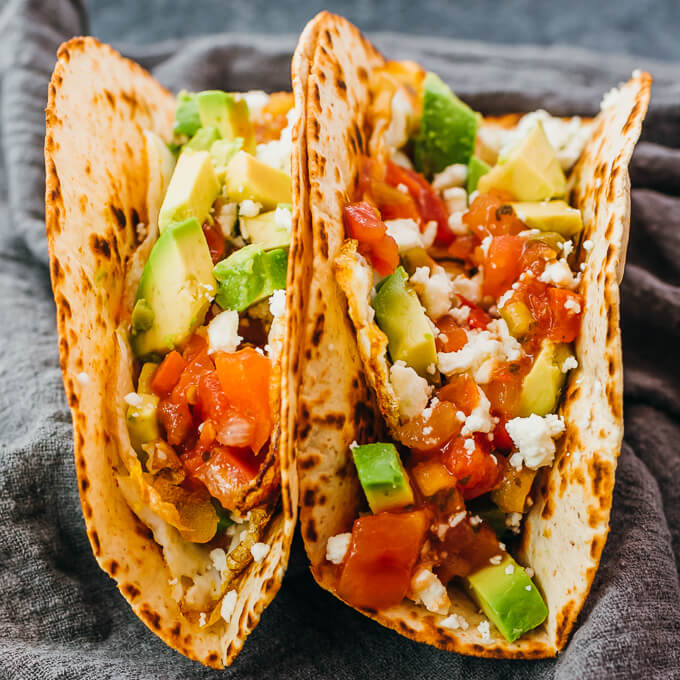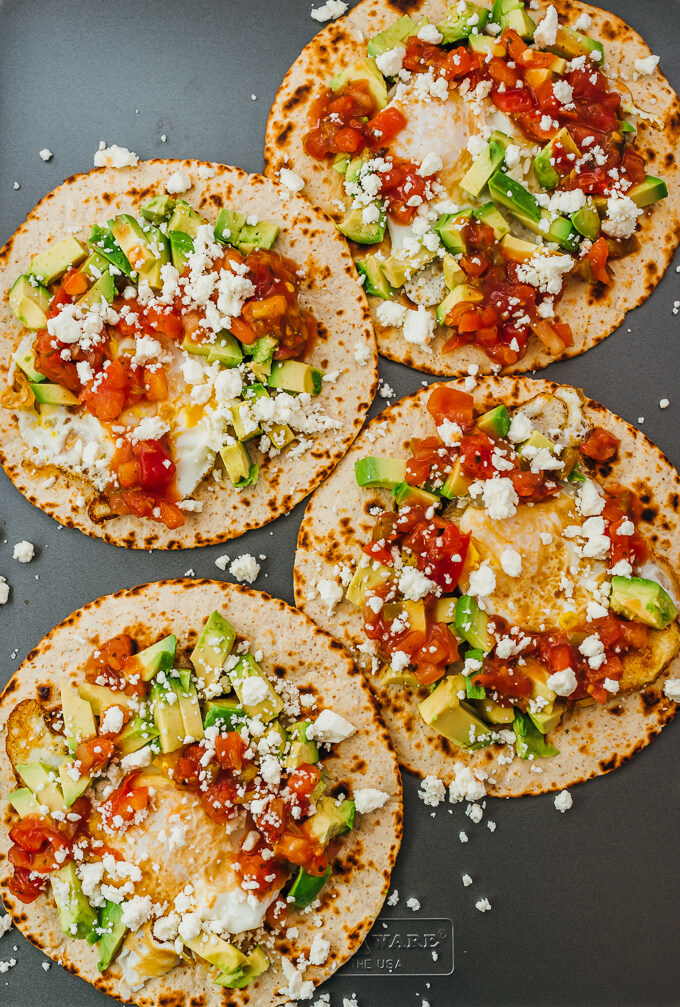 NOTES & TIPS
(1) Low Carb Tortillas. I use store-bought low carb tortillas that are 6 to 7 inches in diameter. You can find them in major U.S. supermarkets under brands like La Tortilla Factory, Mission Carb Balance, Kroger, and La Banderita. They range from 3 to 6 grams net carbs per tortilla.
(2) Salsa. I use either homemade salsa or the fresh kind that you can find in the refrigerated section of a grocery store, not the shelf-stable jarred or canned salsa. You can substitute with other sauces, like salsa verde or pico de gallo.
(3) Cheese. I use a package of pre-crumbled full-fat cheese. Both cotija and feta cheeses have a strong salty taste. You can substitute with other types of cheese, but they may not contribute the same rich flavor as cotija or feta. The cheese can be broken up however you like — crumbled, shredded, or grated.
(4) Warming Tortillas. I use a 10-inch nonstick skillet; no greasing needed. You can heat the tortillas until just warmed, which I find are easier to eat, or you can heat them a few minutes longer until toasted, a bit charred, and crisp — your preference.
(5) Serving. Serve while warm as a breakfast meal, optionally with extra toppings like sour cream, minced fresh cilantro leaves, or (if you're not low carb) black beans. This recipe is forgiving in terms of exact ingredients and their amounts, so adjust to taste. I don't recommend having leftovers because the tortilla will soak up the sauce and turn soggy, and the fried egg won't have a runny yolk anymore once it's reheated.
(6) How To Eat. I find that the easiest way to eat huevos rancheros is folding it in half and eating it like a taco. Another way is to hold it flat on your palm or fingertips. If you prefer not to use your hands, you can place one or stack multiple huevos rancheros on a plate (like pancakes), and use a fork and knife to cut bite-sized pieces. Whichever way you choose, plan for it to be a messy meal!