Summary:
Quick and easy recipe for salsa verde chicken and rice -- just 6 ingredients and 1 pot needed.
Looking for low carb recipes instead? Visit the Savory Tooth Homepage.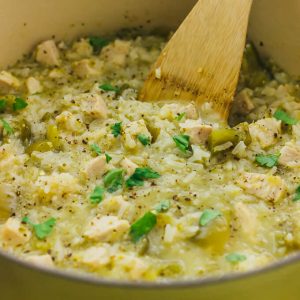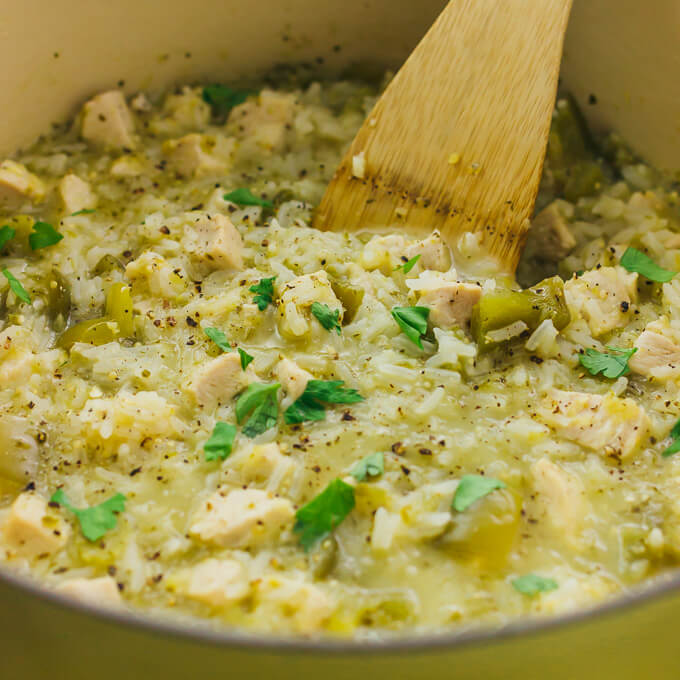 Easiest Salsa Verde Chicken and Rice
INGREDIENTS
1 1/2

pounds

boneless skinless chicken breasts

chopped into 1-inch chunks

1

green bell pepper

diced

2

cups

salsa verde

2

cups

chicken broth

1

cup

uncooked white rice

2

tablespoons

butter
INSTRUCTIONS
Heat butter in a dutch oven or large pot over medium-high heat, spreading the melting butter over the bottom of the pot. Add chicken and sauté until cooked on all sides, about 5 minutes, stirring occasionally.

Add bell pepper and cook for a few minutes, stirring occasionally.

Add salsa verde, chicken broth, and rice. Stir well.

Bring to a boil. Cover and reduce heat to medium-low. Let simmer until the rice is tender and most of the liquid is absorbed, about 20 minutes.

Uncover, turn off the heat, and stir. Season with salt and pepper to taste. Optionally, garnish with chopped parsley.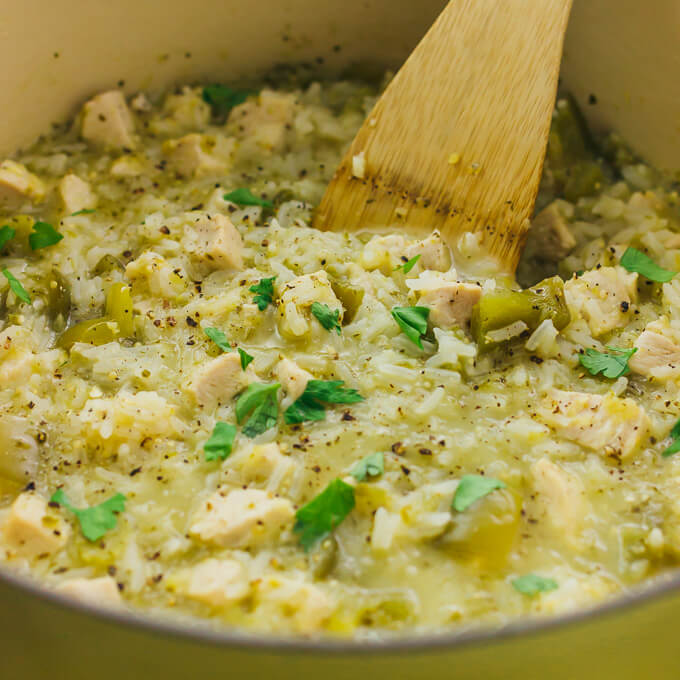 It's 6 pm and your stomach is growling, and you haven't a clue on what you're making for dinner. Commence the scour-the-pantry scene — what can you make with what you already have? Let me recommend this amazing salsa verde chicken and rice.
You only need 6 ingredients and you can be flexible about it: chicken (raw or cooked leftovers), bell pepper (or any other veggie), a jar of salsa verde, chicken broth (or water), rice, and butter (or any cooking oil). Cook the ingredients together for 20 minutes and afterwards you'll end up with this richly flavorful salsa verde chicken and rice, all simmered together in one pot and yielding 5 servings. Win.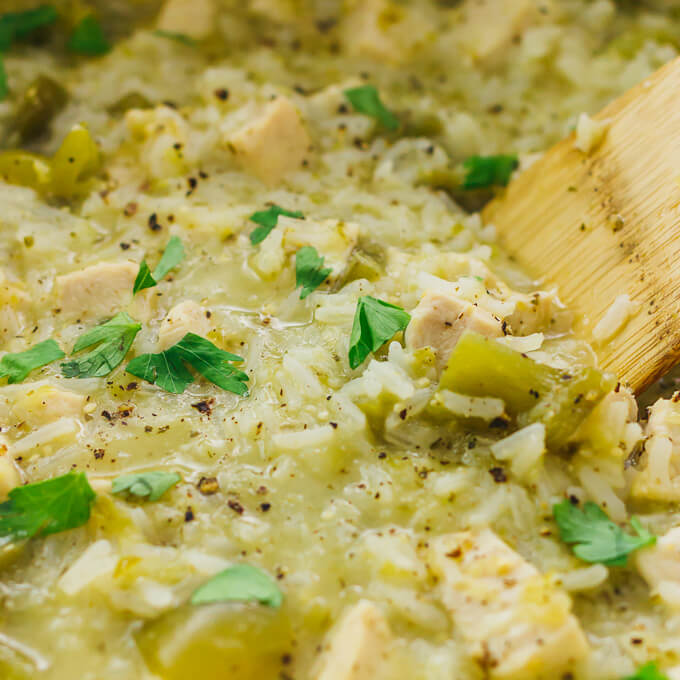 This recipe is inspired by my one pot chicken and rice dish. It's very similar to that recipe in terms of the cooking style and basic ingredients, and there's the same delicious chicken and tender rice. Except, of course, that this recipe has tasty salsa verde flavors — that fresh and tart tomatillo taste that is crazy good. This is so addicting that you'll be coming back for seconds and thirds. Just ask Mr. Savory Tooth.
The salsa verde in this recipe can be store-bought or homemade. If tomatillos are available at your local supermarket, you should totally give it a try and make your own (and feel proud of yourself). If you're in a pinch and going for the store-bought variety, I recommend Trader Joe's salsa verde — I've used it on a number of occasions and it's delicious, if a bit lacking in the heat department, but that can be easily fixed.