Summary:
Here's a fast and easy recipe for Instant Pot chicken noodle soup -- healthy, homemade, and from scratch.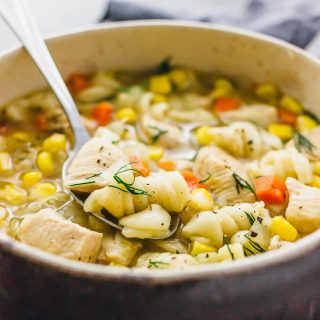 INGREDIENTS
1 3/4

pounds

boneless skinless chicken breasts

about 3, chopped into 1-inch pieces

1 1/2

cups

diced onions

about half an onion

1

cup

diced celery

about 3 stalks

1

cup

diced carrots

about 3 carrots

15

ounce

can corn

drained (about 1 cup)

6

cups

low-sodium chicken broth

8

ounces

rotini pasta

3

tablespoons

fresh dill

1

tablespoon

butter

1/4

teaspoon

freshly ground black pepper
INSTRUCTIONS
Once it reaches temperature, add butter. As it melts, spread it across the bottom of the pot. Add chicken and cook until the outsides of the chicken chunks are mostly cooked, a few minutes, stirring occasionally.

Add onions, celery, and carrots, stirring everything together. Cook for a few minutes until fragrant, stirring occasionally. Turn off the sauté setting.

Add corn, chicken broth, pasta, dill, and pepper. Stir. Check that all ingredients are submerged in the liquid.

Cover and lock the lid on the pressure cooker. Select the manual pressure cooking setting and adjust the cooking time to 10 minutes at high pressure.

When the pressure cooker is finished, use the quick release handle to release steam pressure and stop the cooking.

Stir the contents, adding salt to taste. Serve warm.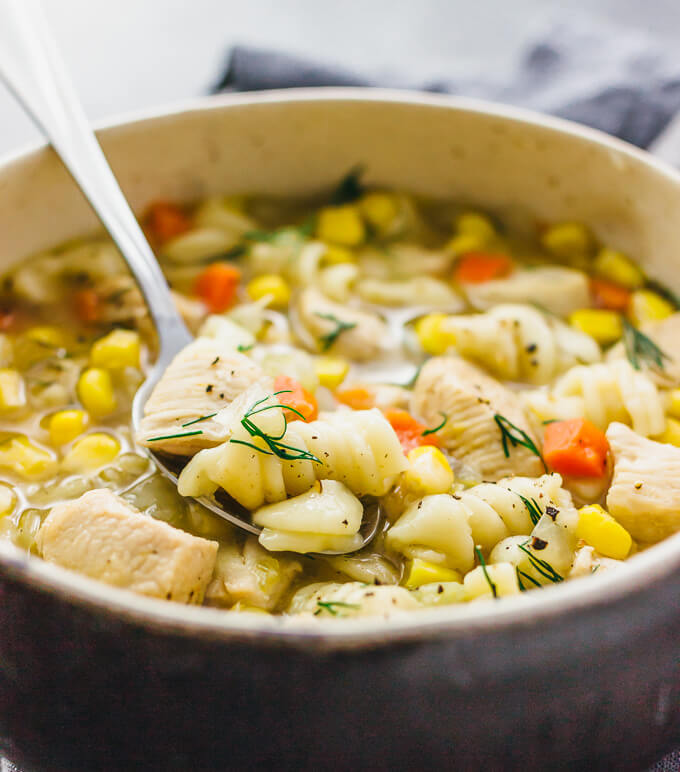 I love ordering soups from local eateries, such as broccoli cheddar soup, chicken noodle soup, and clam chowder, but my main gripe is that it's always too salty. Maybe it's because I'm mainly eating home cooked meals these days and I'm not used to restaurant-levels of salt. Not only is the extra salt in these soups a bit jarring, it's also bad for anyone trying to maintain their weight, as research shows that salty diets make you hungrier. I've come around to making homemade soups instead, starting with creamy potato soups and now this chicken noodle soup. I use low-sodium chicken stock, fresh and unprocessed ingredients, and add salt to taste when serving. This homemade version is a lot healthier, and I find it's easier to taste all of its flavors when it's not overloaded with salt.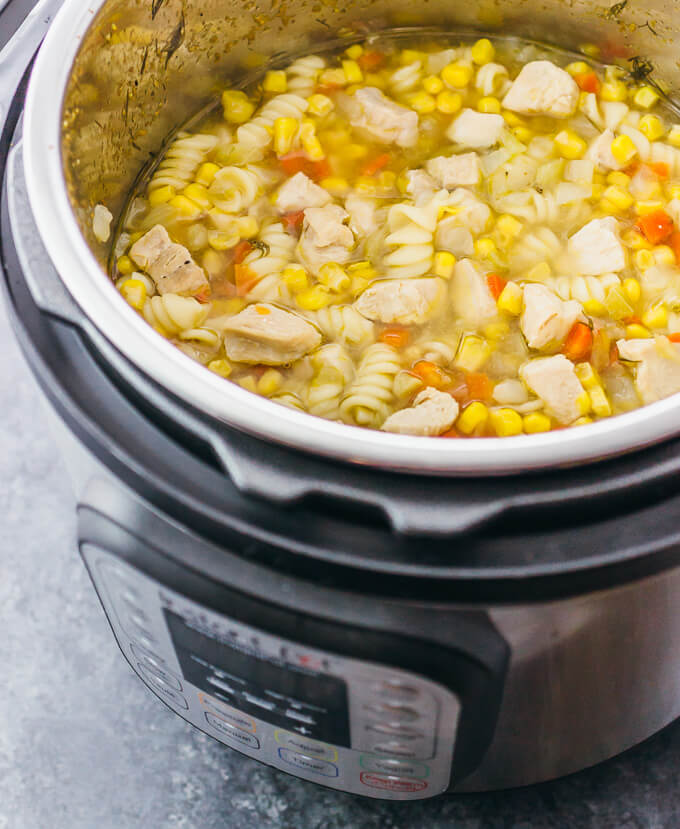 Cooking this chicken noodle soup in the Instant Pot is fast. In just 10 minutes of pressure cooking, you are left with shreddable chunks of chicken and meltingly tender noodles. Everything cooks together in the same pot, including the noodles, and with the Instant Pot you can sauté in the same pot as well.
Here are my other favorite pressure cooker recipes: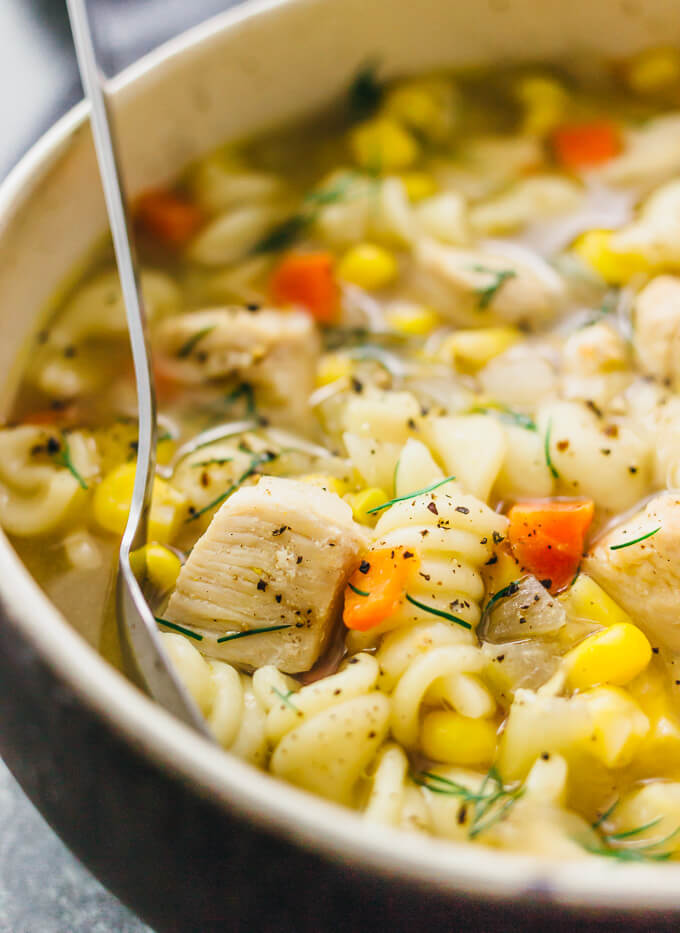 This chicken noodle soup includes diced onions, celery, and carrots, which means you can significantly simplify your prep work by buying mirepoix (pronounced MEER-pwah). Mirepoix is a ready-to-use package of pre-diced and proportioned amounts of onions, celery, and carrots. It's available at most supermarkets, and I get mine in a 15 ounce tub that amounts to half an onion, 3 carrots, and 3 celery stalks. This is such a time saver and it's great to use in soups and stews, especially when I'm making a big pot of shrimp and sausage gumbo.
This is a chunky and hearty chicken noodle soup; if you prefer yours with more liquid, you can easily add more chicken stock until it reaches your desired consistency.