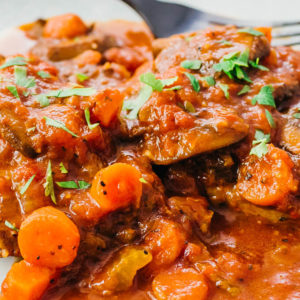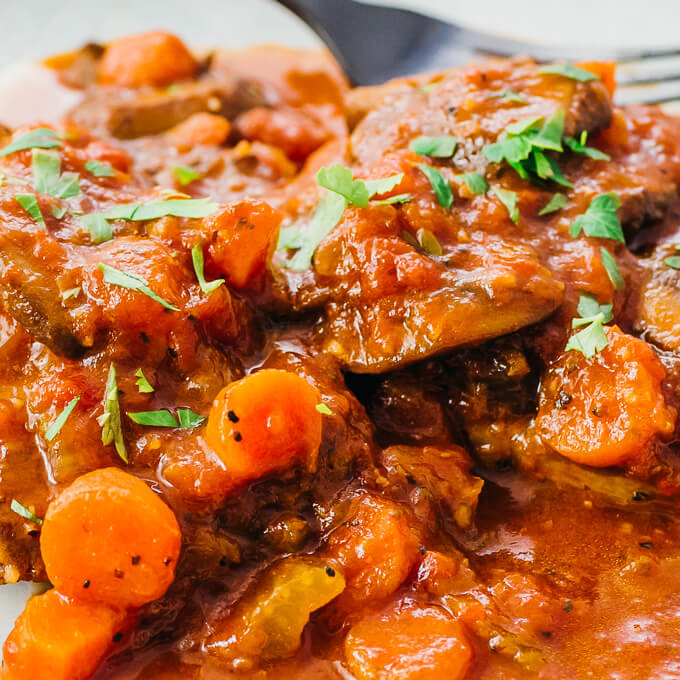 INGREDIENTS
2

pounds

beef eye of round, bottom round, or top round

1/2

cup

diced onions (1/4-1/2 onion)

1/2

cup

diced carrots (1-2 carrots)

1/2

cup

diced celery (1-2 stalks)

1

(14.5-ounce)

can diced tomatoes

1

(8-ounce)

package cremini mushrooms

sliced

3

cloves

garlic

minced

2

tablespoons

olive oil

1

tablespoon

worcestershire sauce

1

tablespoon

chopped fresh parsley
INSTRUCTIONS
Trim the beef of any excess fat, and cut into 8 to 10 slices about 1/2 inch thick. Pat dry with paper towels. In a small bowl, combine all dry seasonings and stir to mix well. Add sliced beef and all seasonings to a resealable bag. Toss until the beef is well-coated.

Select the saute mode on the pressure cooker for medium heat. Add olive oil to coat the bottom of the pot. When the display reads HOT, working in multiple batches, add beef in a single layer and brown for about a minute, flip to brown the other side for another minute, then transfer to a large bowl.

Add onions, carrots, celery, and garlic to the pot. Cook for a few minutes to soften, stirring frequently. Turn off the saute mode.

Add diced tomatoes (including liquid in the can) and Worcestershire sauce. Stir together until well-mixed, scraping up flavorful brown bits stuck to the pot. Return the beef slices sans drippings to the pot, snugly arranging the beef on top of the vegetables. Evenly distribute mushrooms on top.

Secure and seal the lid. Cook for 30 minutes at high pressure, followed by a 10 minute natural release. Manually release remaining pressure.

Uncover and transfer only the beef slices onto serving plates. Turn on the saute mode. Boil for about 20 minutes or until the remaining liquid thickens into a sauce, stirring occasionally. Turn off the saute mode.

Pour the sauce over the beef slices. Top with parsley and serve.
NUTRITION
Makes 4 Servings
Amount Per Serving:
| | |
| --- | --- |
| Calories 400 (33% from fat) | |
| Total Fat 14g | 22% |
| Saturated Fat 3g | 17% |
| Cholesterol 150mg | 50% |
| Sodium 1120mg | 47% |
| Net Carb 9.5g | |
| Total Carb 11.5g | 4% |
| Dietary Fiber 2g | 9% |
| Sugars 5.5g | |
| Protein 52g | |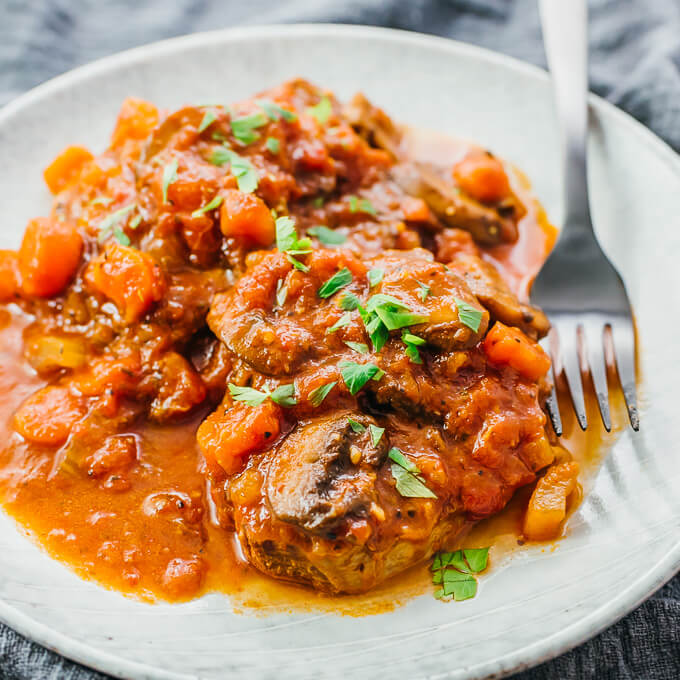 Stovetop vs pressure cooker
I recently posted a stovetop recipe for Swiss Steak, and while I love its sharp flavors, the two hours of simmering required were too time-consuming for weeknight dinners. I wanted a faster version of the same dish, so it wasn't hard to convince myself to make it in the Instant Pot.
The only downside with using a pressure cooker is just my usual complaint that there's too much liquid. In the past, I have used corn starch or xanthan gum to thicken sauces and stews (like Instant Pot Chicken Marsala or Instant Pot Beef Bourguignon) but recently I've preferred to just boil it down. This means more intense flavors and one less ingredient. In this recipe, you need to boil for quite a while to get the sauce to thicken, about 20 minutes. Even so, it still takes far less time to cook than the stovetop version.
To learn more about Swiss steak, such as where its name comes from (and no, it doesn't originate from Switzerland) and how I've adapted from the traditional version, read this post for stovetop Swiss Steak.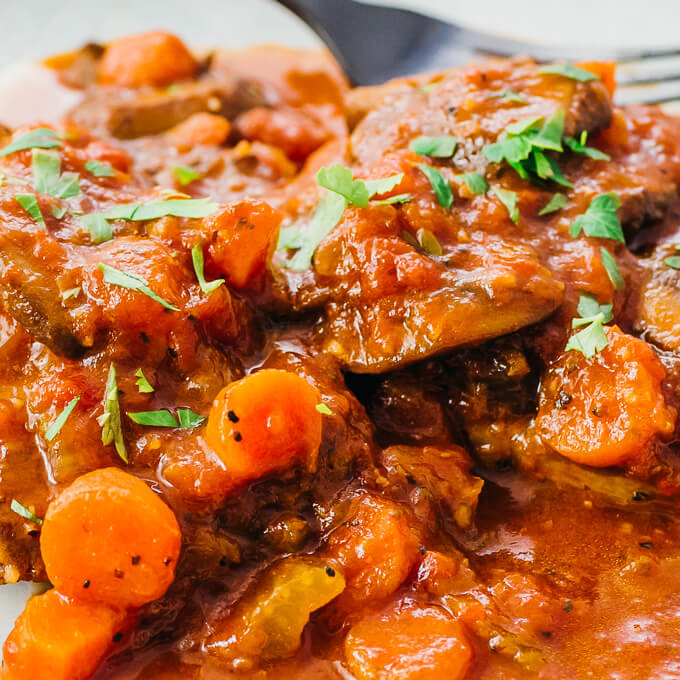 Common cooking questions
Why isn't there any liquid added to the Instant Pot so that it can pressurize? There is plenty of liquid exuded by the vegetables and beef as it starts to cook, and it's more than enough to pressurize your pot. The canned diced tomatoes also contain liquid that aids in pressurizing.
How do I store and reheat leftovers? Cover and store leftovers in the refrigerator up to a few days. They reheat well in the microwave.
How many beef slices should I brown at a time? It's important not to crowd the beef slices as they brown. Don't brown more than 3 pieces at a time, or 2 if they're very large. It usually takes me about 3 batches total to brown them all. When done correctly, you should see lots of nice browning action on the beef as well as glorious flavorful brown bits stuck to the bottom of the pot (these will get automatically scraped up as you deglaze with the diced tomatoes).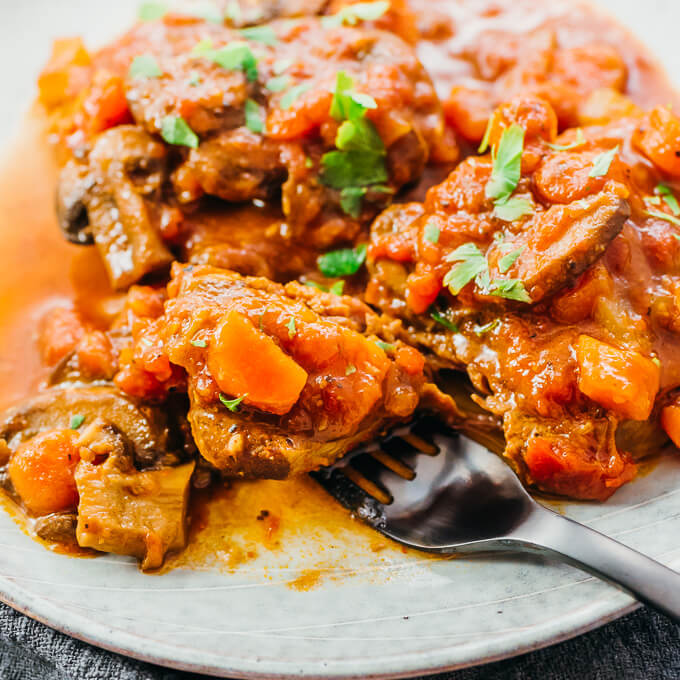 Simple tip to reduce carbs
Each serving has 9.5g net carbs, which is a bit on the high side. I usually try to keep my dinner recipes under 10g net carbs per serving so that they're suitable for a keto diet. The majority of the carbs come from the vegetables, especially the tomatoes, carrots, and mushrooms.
The tomatoes and carrots are essential to the flavor of the resulting sauce, so the mushrooms are the most dispensable. To make this dish without mushrooms, skip the instruction where you add the mushrooms and reduce the simmering time at the end of the recipe by about 5 minutes.
By removing the mushrooms, this reduces each serving to 7.5g net carbs without a significant loss in flavor. I've made this dish both ways, and I like them both!
MORE DELICIOUS INSTANT POT BEEF RECIPES: