Summary:
This low carb Swiss Steak is brimming with flavors, from the rich tomato sauce to the juicy mushrooms to the tender savory meat. The Instant Pot quickly transforms a relatively tough cut of beef into a delicious meal.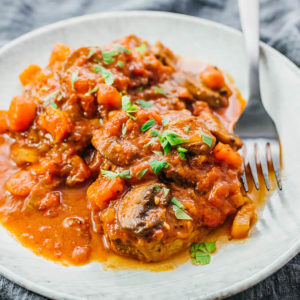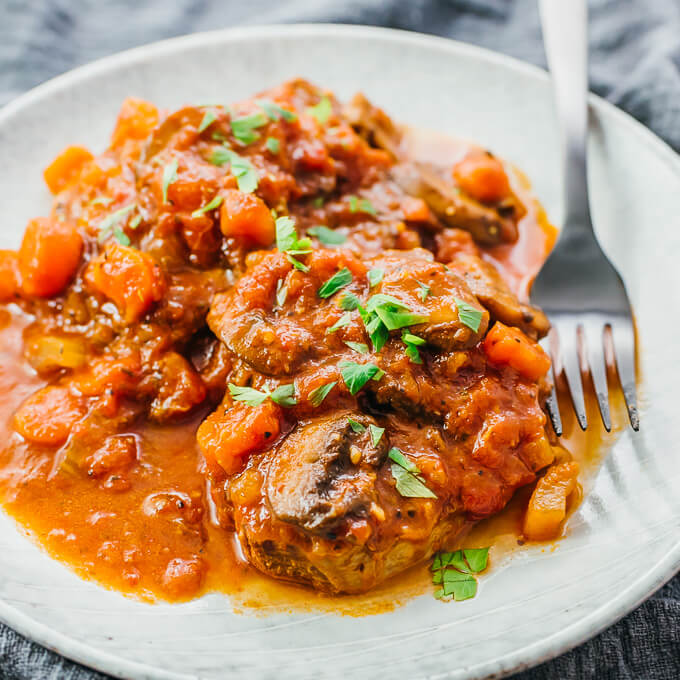 Instant Pot Swiss Steak
Natural Release:
10

minutes
INGREDIENTS
2

pounds

beef eye of round, bottom round, or top round

1/2

cup

diced onions

(1/4 to 1/2 onion)

1/2

cup

diced carrots

(1 to 2 carrots)

1/2

cup

diced celery

(1 to 2 stalks)

14.5-ounce can

diced tomatoes

8

ounces

cremini mushrooms, sliced

3

cloves

garlic, minced

2

tablespoons

olive oil

1

tablespoon

worcestershire sauce

1

tablespoon

chopped fresh parsley
INSTRUCTIONS
Prep Beef: Trim any excess fat from beef, and cut into 8 to 10 slices about 1/2 inch thick. Pat dry with paper towels. Stir together all dry seasonings in small bowl until well-mixed. Add sliced beef and dry seasonings to resealable bag, and toss until beef is well-coated.

Brown Beef: Select sauté mode on pressure cooker (Note 1) for medium heat. Add olive oil to coat bottom of pot. When display reads HOT, working in multiple batches (Note 2), add beef in single layer and brown for one minute, flip to brown other side for another minute, then transfer to large bowl.

Add Vegetables: Add onions, carrots, celery, and garlic to now-empty pot. Cook for a few minutes to soften, stirring frequently. Turn off sauté mode. Add diced tomatoes, including liquid in can, and Worcestershire sauce. Stir together until well-mixed, loosening flavorful brown bits stuck to pot. Return beef slices sans drippings to pot, snugly arranging beef on top of vegetables. Evenly distribute mushrooms on top.

Pressure Cook (Note 3): Secure and seal lid. Cook for 30 minutes at high pressure, followed by 10 minute natural release. Manually release remaining pressure.
NUTRITION
Makes 4 Servings
Amount Per Serving:
| | |
| --- | --- |
| Calories 400 (33% from fat) |   |
| Total Fat 14g | 22% |
|    Saturated Fat 3g | 17% |
| Cholesterol 150mg | 50% |
| Sodium 1120mg | 47% |
| Net Carb 9.5g (Note 6) |   |
| Total Carb 11.5g | 4% |
|    Dietary Fiber 2g | 9% |
|    Sugars 5.5g |   |
| Protein 52g |   |
PHOTOS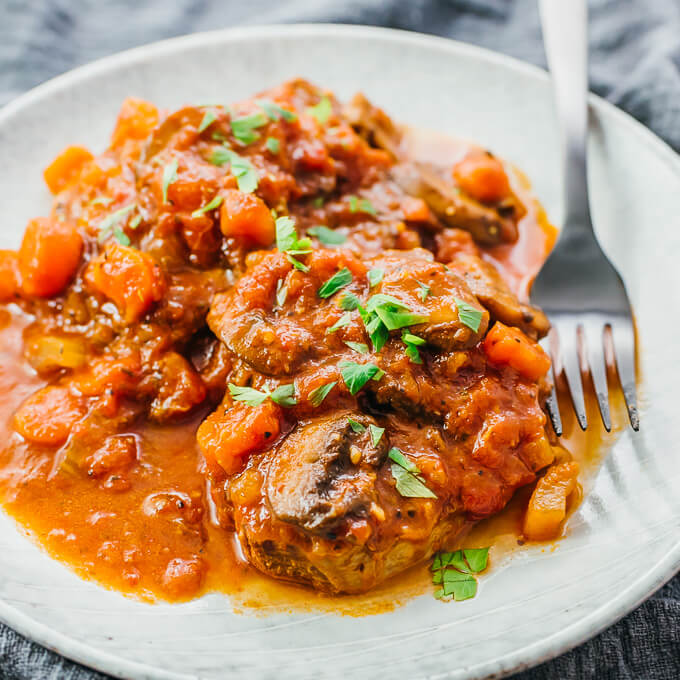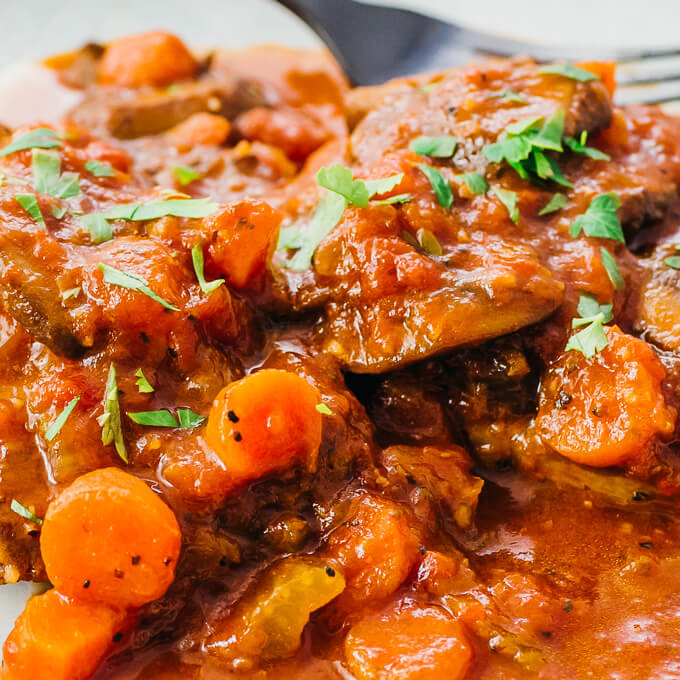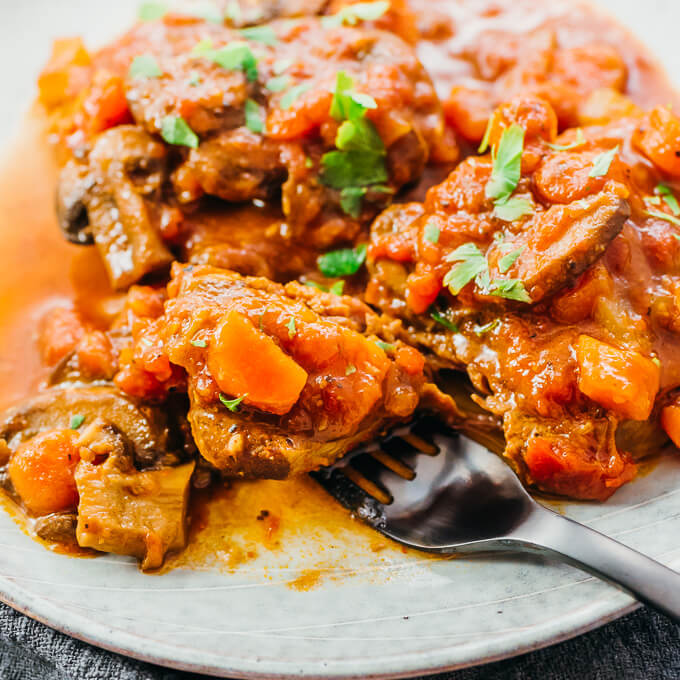 NOTES & TIPS
(1) Pressure Cooker Equipment. I use a 6-quart Instant Pot. Larger sizes (like 8 quarts) should also work. All ingredients need to be able to fit within the maximum capacity line.
(2) Multiple Batches. Avoid crowding the beef slices as they brown. Don't brown more than 3 pieces at a time, or 2 if they're very large. It usually takes me about 3 batches total to brown them all. When done correctly, you should see lots of nice browning action on the beef as well as flavorful brown bits stuck to the bottom of the pot (these will get automatically scraped up as you deglaze with the diced tomatoes).
(3) Pressure Cooking. There is no water added to the Instant Pot to aid in pressurization. The vegetables and beef will exude liquid as they begin to cook, which is sufficient to pressurize the pot.
(4) Thickening Liquid. One of the downsides with using a pressure cooker is that there's usually too much liquid in the pot after cooking. You can use a thickener like cornstarch or xanthan gum to thicken it, but for this recipe I prefer to boil it down, resulting in more intense flavors.
(5) Serving / Leftovers. Serve warm, alongside mashed cauliflower or mashed turnips. Leftover Swiss steak should be stored in an airtight container in the refrigerator for up to 3 days, and reheated using the microwave.
(6) Lower Carb Option. Each serving has 9.5g net carbs, which is mainly coming from the tomatoes, carrots, and mushrooms. To reduce the carbs to 7.5g per serving, skip the mushrooms but keep the tomatoes and carrots, which are essential to the flavor of the resulting sauce. By skipping the mushrooms, the simmering time at the end of the recipe should be reduced by 5 minutes.
(7) Stovetop Cooking Option. If you don't have a pressure cooker, check out the stovetop Swiss steak recipe, which is equally good but takes longer to cook.