Summary:
Amazing flavors in this recipe for Swiss Steak, cooked in a single pot on the stovetop. Due to the long simmering time, the beef is fall-apart tender and the liquid in the pot reduces to an intensely flavorful sauce with tomatoes, carrots, and mushrooms. To keep carbs to a minimum, no flour or corn starch is used.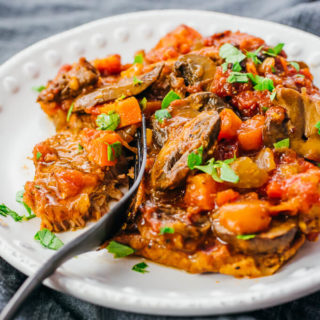 INGREDIENTS
2

pounds

beef round (Note 1)

1/2

cup

diced onions

(1/4 to 1/2 onion)

1/2

cup

diced carrots

(1 to 2 carrots)

1/2

cup

diced celery

(1 to 2 stalks)

14.5-ounce can

diced tomatoes

8

ounces

cremini mushrooms, sliced

3

cloves

garlic, minced

2

tablespoons

olive oil

1

tablespoon

worcestershire sauce

1

tablespoon

chopped fresh parsley
INSTRUCTIONS
Prep Beef: Trim any excess fat from beef, and cut into round slices about 1/2 inch thick. Pat dry with paper towels. Stir together all dry seasonings in small bowl until well-mixed. Add sliced beef and dry seasonings to resealable bag, and toss until beef is well-coated.

Brown Beef: Heat olive oil in dutch oven or pot (Note 2) over medium to medium-high heat for a few minutes until hot. Working in two batches, add beef slices in single layer and brown for about a minute, flip and brown other side, then transfer to large bowl.

Add Vegetables: Add onions, carrots, celery, and garlic to now-empty pot. Cook for a few minutes until aromatic, stirring frequently. Add diced tomatoes (including liquid in can), Worcestershire sauce, and 2/3 cup water. Stir together until well-mixed. Return beef slices and any bowl drippings to pot, snugly arranging beef on top of vegetables. Evenly distribute mushrooms on top.

Slow Cook: Cover with tightly fitting lid. Cook over medium-low heat for 2 hours, or until beef is very tender and nearly falling apart.

Serve: Uncover, and turn off heat. Transfer only beef slices onto serving plates. Stir together vegetables and sauce in pot, loosening any brown bits stuck to bottom, and spoon them over beef. Top with parsley, then serve (Note 3).
NUTRITION
Makes 5 Servings
Amount Per Serving:
| | |
| --- | --- |
| Calories 320 (33% from fat) |   |
| Total Fat 12g | 18% |
|    Saturated Fat 3g | 14% |
| Cholesterol 120mg | 40% |
| Sodium 890mg | 37% |
| Net Carb 7.5g |   |
| Total Carb 9.5g | 3% |
|    Dietary Fiber 2g | 7% |
|    Sugars 4.5g |   |
| Protein 41g |   |
PHOTOS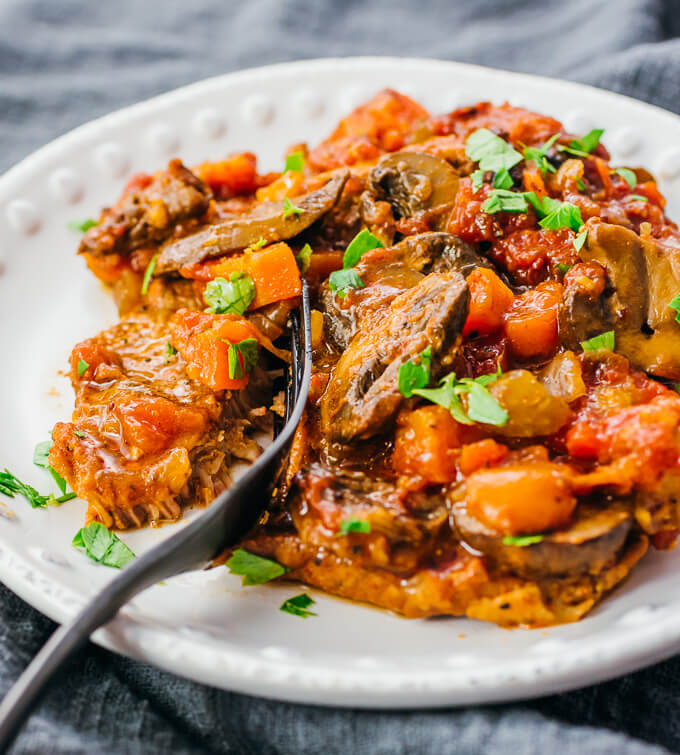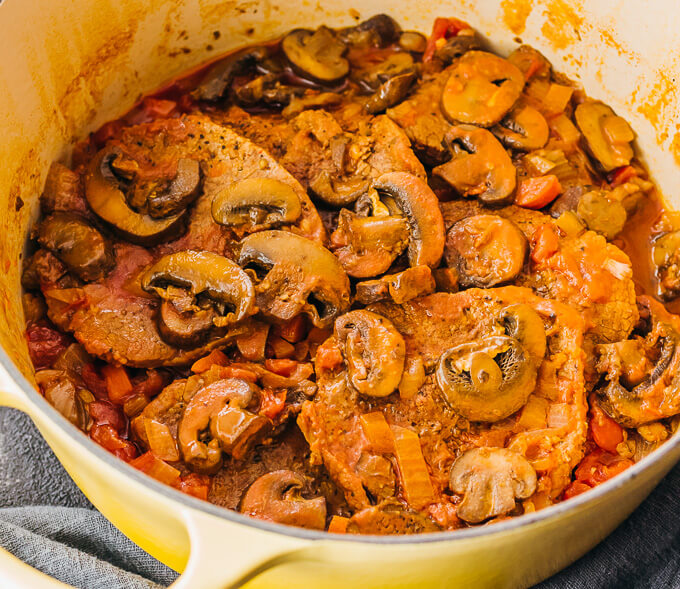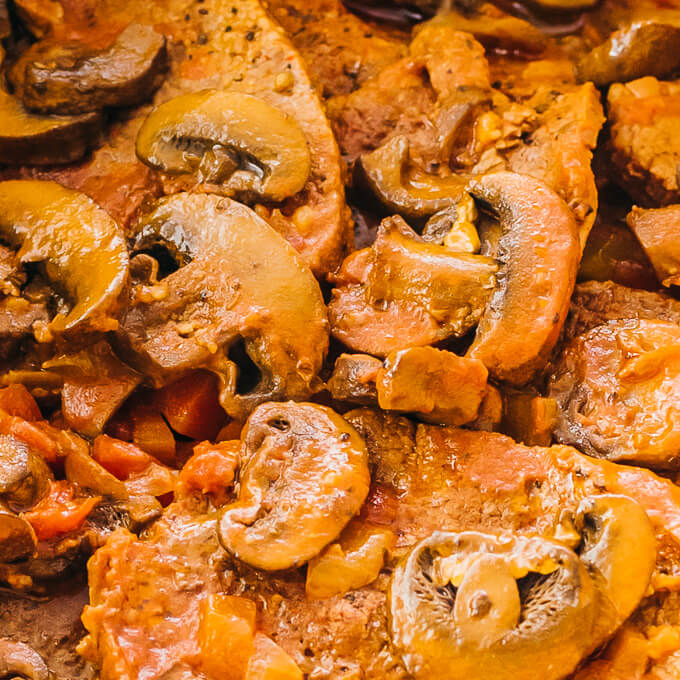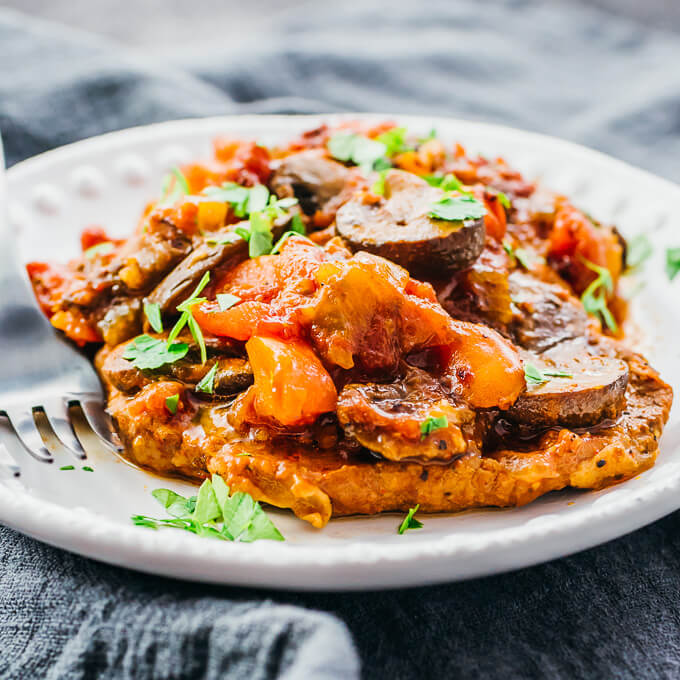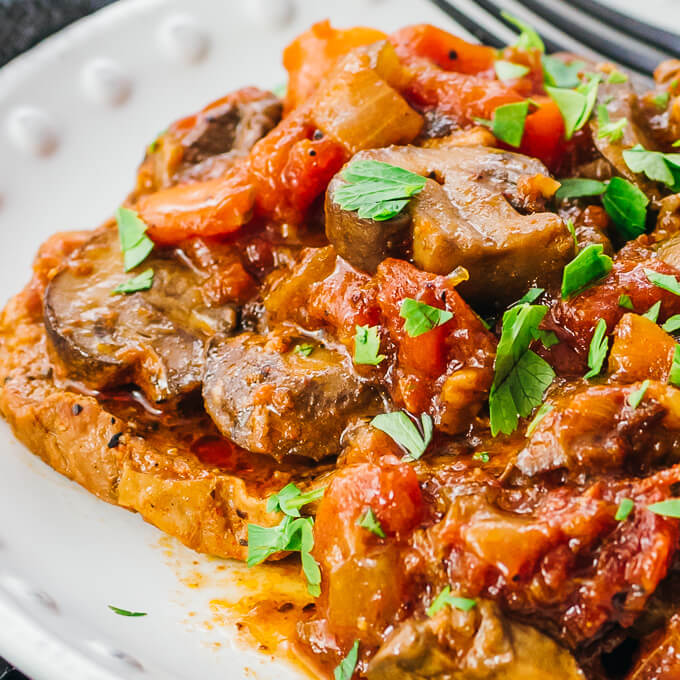 NOTES & TIPS
(1) Beef Round. Swiss steak is made using beef from the "round" region, which refers to a cow's rear leg. You can use any round cut for this recipe, including eye of round, bottom round, and top round. It should be a relatively lean and tough cut.
(2) Dutch Oven. I use a 6 quart dutch oven. You can use one as small as 4 quarts for this recipe, but it may take multiple batches to brown all of the meat. If you use a pot other than a dutch oven, your simmering time may vary — the beef is done when it's very tender and falling apart, and the sauce should be quite thick.
(3) Serving. Given the intense flavor of the tomatoes, serve Swiss steak with something plain. Traditionally, it's paired with a starch like pasta, mashed potatoes, or rice. If you follow a low carb diet, I recommend serving with mashed turnips, mashed cauliflower, a simple green salad, or roasted vegetables.
(4) Other Cooking Methods. To save time, use your pressure cooker — see Instant Pot Swiss Steak recipe. If you prefer to use a slow cooker, I suggest cooking on low for at least 8 hours so that the meat is fall-apart tender. You'll need a separate skillet for browning the meat and sautéing the vegetables.