Summary:
This Pulled Tandoori Chicken is a really easy Indian dish, a "dump-and-go" type of Instant Pot recipe. The resulting shredded meat is not only tender and flavorful but also versatile in its many uses. See more Low Carb, Keto Chicken Dinners.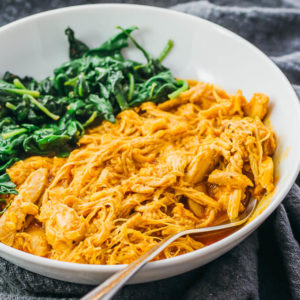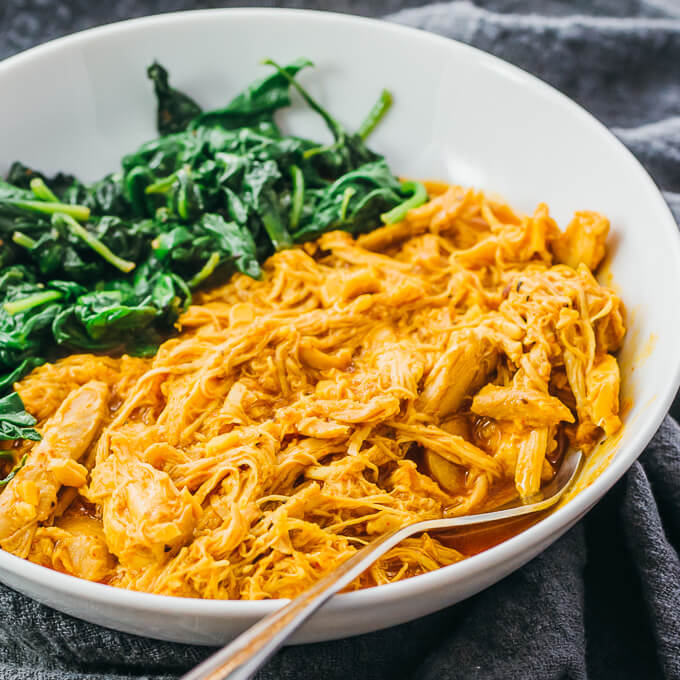 Instant Pot Pulled Tandoori Chicken
INGREDIENTS
1.5

pounds

boneless skinless chicken thighs

3/4

cup

full fat canned coconut milk

1/2

cup

plain 2% fat greek yogurt

5

cloves

garlic

minced

1

tablespoon

fresh minced ginger

1

tablespoon

ground cumin

1

tablespoon

smoked paprika

1

teaspoon

ground turmeric

3/4

teaspoon

salt

3/4

teaspoon

black pepper

1/4

teaspoon

ground cayenne
INSTRUCTIONS
Add all ingredients to the pressure cooker pot except for the chicken thighs. Stir until well-mixed.

Add chicken thighs to the pot, arranging them evenly on top of the yogurt-coconut mixture.

Secure and seal the lid. Cook at high pressure for 20 minutes, followed by a quick pressure release.

Uncover and transfer only the chicken to a plate. Use 2 forks to shred the chicken and then return it to the pot. Stir together.

Turn on the saute mode to medium heat. Boil until it thickens from a soup-like to a sauce-like consistency, about 5 minutes, stirring frequently to prevent sticking along the bottom of the pot.

Turn off the saute mode, and serve while hot.
NUTRITION
Makes 3 Servings
Amount Per Serving:
| | |
| --- | --- |
| Calories 410 (52% from fat) | |
| Total Fat 24g | 37% |
| Saturated Fat 8g | 41% |
| Cholesterol 186mg | 62% |
| Sodium 940mg | 39% |
| Net Carb 6g | |
| Total Carb 7.5g | 3% |
| Dietary Fiber 1.5g | 6% |
| Sugars 3g | |
| Protein 42g | |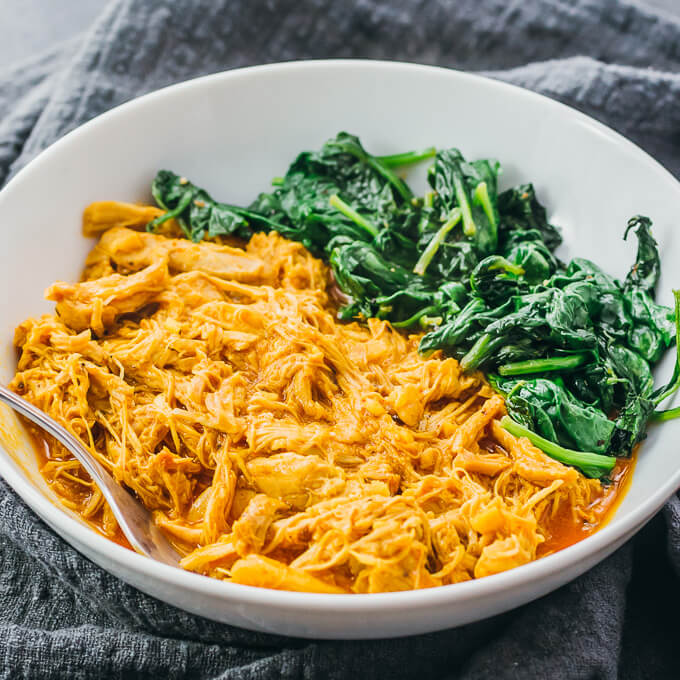 Tandoori chicken is one of my two go-to Indian chicken recipes that are easy and full of flavor, the other one being chicken tikka masala. This recipe differs from traditional tandoori chicken because it's a simpler and quicker version made in the pressure cooker.
Typical tandoori chicken is marinated before cooking. This recipe skips that step, and instead all of the ingredients — the chicken, marinade, and spices — are combined together in the pot and pressure cooked simultaneously. Much simpler, with very flavorful results.
This Instant Pot version is all about soft and tender meat, in a rich coconut-based sauce with Indian spices. I adapted it from my traditional tandoori chicken made in the oven, which in contrast has a crisp and charred finish.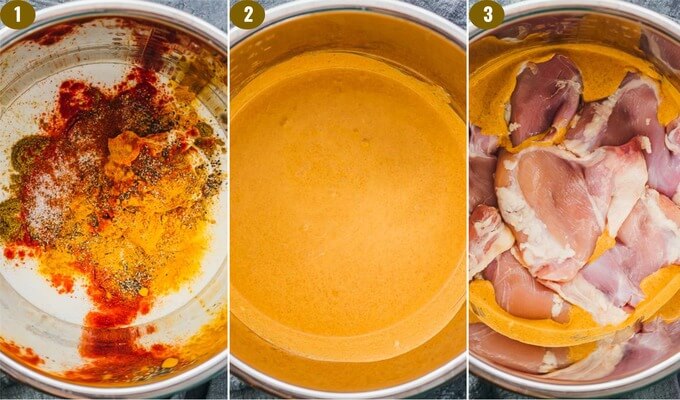 Tandoori chicken is sometimes referred to as red chicken due to its reddish hue. This is usually achieved by using food coloring or Indian red chili powder, which is an option for those of you looking to perfect the resulting color.
This recipe uses a Tandoori spice mix with cumin, paprika, turmeric, and cayenne. They're store-bought and easy-to-find spices, and their combination yields an authentic Indian flavor.
The amount of cayenne listed in the recipe is for what I consider to be a mildly spicy dish; for more or less heat, adjust accordingly to taste.

It's easy to adjust the final consistency of the dish. When using the saute mode to thicken, you can boil for a longer time for a saucier dish or a shorter amount for a thinner stew-like dish.
A thicker finish is good if you want to use the pulled chicken as a filling for a sandwich or wrap, whereas a thinner consistency would be great if you want to have extra sauce for dipping or add-on ingredients.
Just boil until you get your desired texture. Note that some thickening will naturally happen as the dish cools. Once you're done with that, you can serve with sauteed or creamed spinach, fried cauliflower rice, or roasted vegetables.
More Easy Instant Pot Dinners