Summary:
Learn how to cook lobster tails with lemon garlic butter, topped with a crispy parmesan bread crumb mixture. This recipe only takes 30 minutes from start to finish, and is perfect for date nights and other special occasions.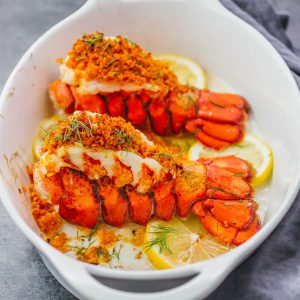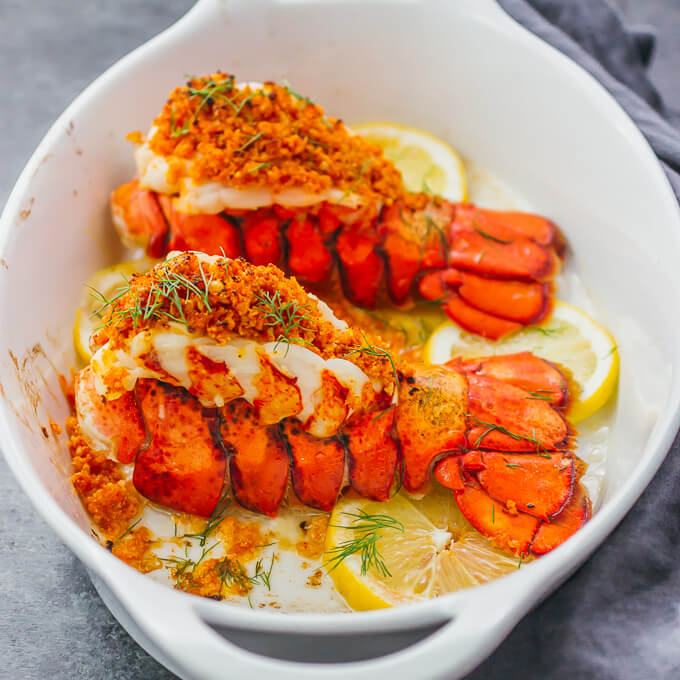 INGREDIENTS
Lemon Garlic Butter:
2

tablespoons

butter, melted

2

tablespoons

fresh lemon juice

1

large clove

garlic, minced
INSTRUCTIONS
Prepare Lobster (Note 3): Working with one lobster tail at a time, use scissors to snip through top of shell (round hard side), cutting through part of meat and stopping before tail. Carefully pry shell open wide enough to separate meat from shell, but keep meat attached at tail. Lift meat up and over shell.

Brush Butter: Stir all lemon garlic butter ingredients together in small bowl until mixed. Brush along lobster tails to coat.

Broil: Set oven rack about 8 inches from broiler flame. Turn on broiler at high setting. Broil lobster tails until cooked through, about 10 minutes (Note 4). Meanwhile, stir all bread crumb mixture ingredients together in small bowl until mixed.

Broil Again: Remove lobster tails from oven and top with bread crumb mixture. Return lobster tails to oven to broil for another 1 to 2 minutes until crispy. Serve immediately (Note 5).
NUTRITION
Makes 2 Servings
Amount Per Serving (1 lobster tail):
| | |
| --- | --- |
| Calories 300 (61% from fat) |   |
| Total Fat 21g | 32% |
|    Saturated Fat 12g | 60% |
| Cholesterol 196mg | 65% |
| Sodium 670mg | 28% |
| Net Carb 7g |   |
| Total Carb 7.5g | 2% |
|    Dietary Fiber 0.5g | 2% |
|    Sugars 1g |   |
| Protein 22g |   |
PHOTOS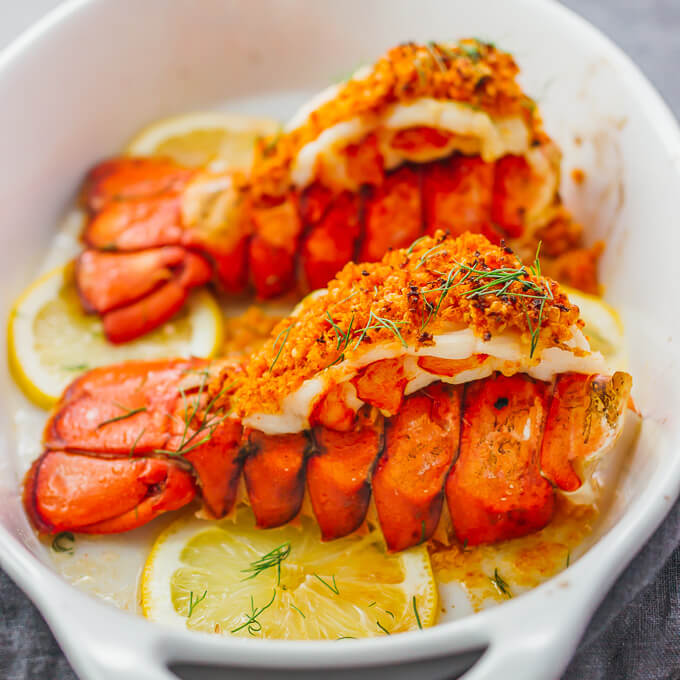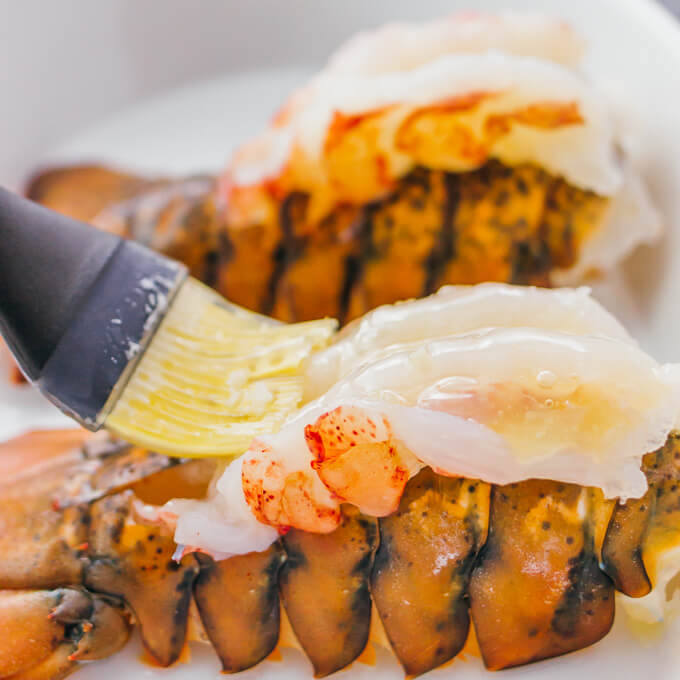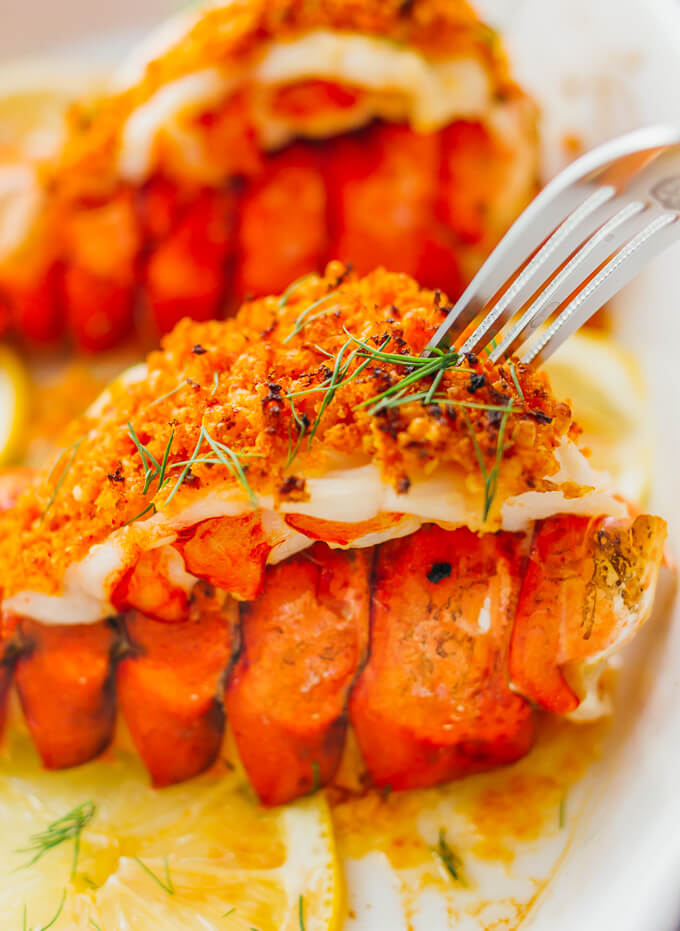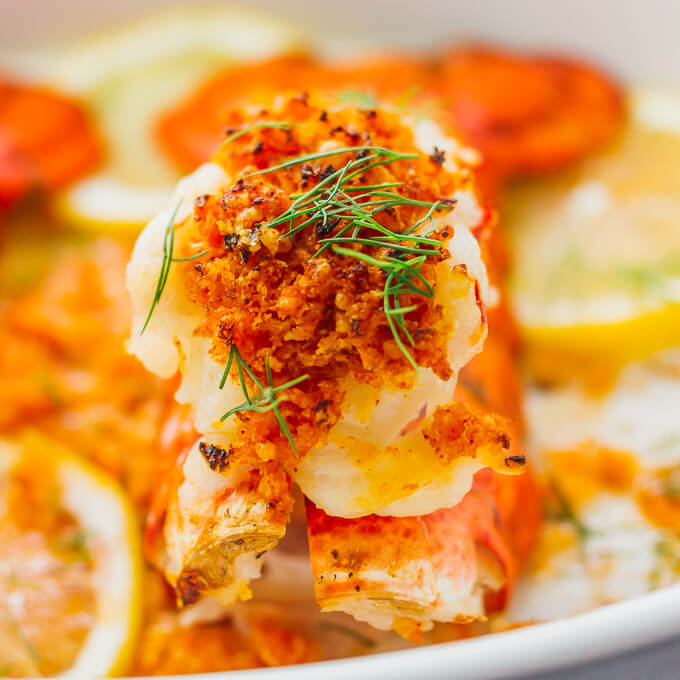 NOTES & TIPS
(1) Lobster Tails. Each lobster tail should be 5 to 7 ounces weight. If frozen, defrost in the refrigerator or submerge under running cold water until fully thawed.
(2) Parmesan Cheese. This is finely grated parmesan that has a sandy or almost powdery texture, not shredded, often available in pre-grated bags in the refrigerated section of U.S. grocery stores. This can be substituted with similar cheeses like pecorino romano or asiago.
(3) Preparing Lobster Tails. This step allows you to "butterfly" each lobster tail so that the meat sits elegantly on top of the shell, ready to be seasoned and cooked. This step is most easily explained visually, so check out this 1-minute video to see how it's done.
(4) Broiling. Lobster tails are cooked when the meat is no longer translucent and the shells are bright red. An instant-read thermometer should read an internal temperature of 145 F. Avoid overcooking, as the lobster meat can become tough.
(5) Serving. Optionally garnish lobster tails with fresh dill and lemon slices. Serve them with side dishes like mashed cauliflower, coleslaw, cauliflower "mac" and cheese, or pasta salad.