These low carb, keto friendly butter cookies are eggless and made with almond flour and butter. Perfect for the holidays like Christmas.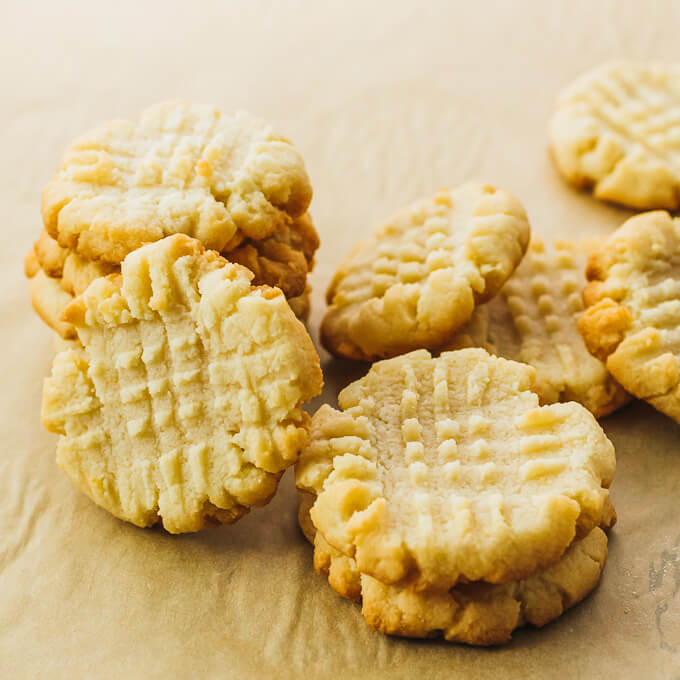 These butter cookies are very low in carbs and make for a healthy treat during the holidays. They are not too sweet, with a texture that reminds me of Danish butter cookies or shortbread biscuits. These are quite possibly my simplest-ever homemade cookies.  You'll only need four ingredients to make these simple cookies — almond flour, butter, low carb sweetener (erythritol), and vanilla extract. That's right, no eggs needed, as room temperature butter binds everything together. You don't need a hand mixer or any equipment at all; a mixing bowl and a spoon will do. It takes 5 to 10 minutes to whip everything together, and another 10 minutes to bake.
How to make butter cookies from scratch: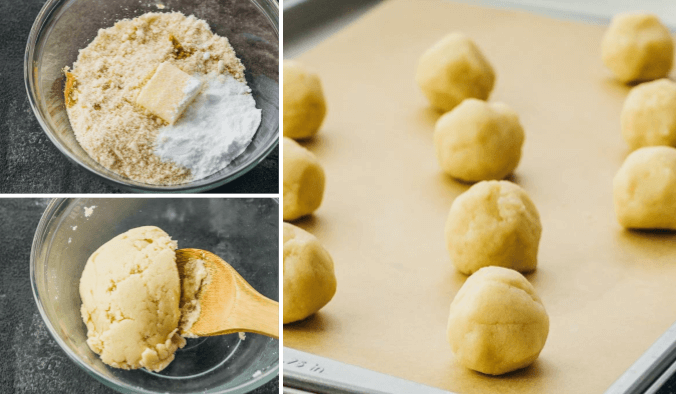 These butter cookies took a bit of experimenting to get right. I started with my shortbread butter bars recipe and replaced wheat flour with almond flour, white sugar with erythritol (more on that later), and omitted the egg. The resulting dough was way too buttery and sticky to handle. My next iteration used significantly less butter, just enough to form a cohesive cookie dough. Eggs aren't necessary in this recipe — the softened butter binds all of the ingredients together nicely. Note that I used softened butter at room temperature, not melted liquid butter.
I use erythritol as a low carb sweetener for all of my keto dessert recipes, like chocolate chip cookies and peanut butter cookies. Erythritol doesn't impact blood sugar or insulin, as our bodies actually cannot digest it. I buy the granulated form of erythritol online, and use my Nutribullet to pulverize it into powdered form, which is easily mixed into dough. If you prefer, you can substitute erythritol with another powdered sweetener; note that erythritol is about 70% as sweet as white sugar.
These butter cookies will keep their shape during baking and will not spread, so take care to form them to your desired shape before baking. I used a fork to indent a standard criss-cross pattern onto the cookies, but other ideas include making a thumb print and fill with jam, or sprinkling with sweetened cinnamon like snickerdoodles. These cookies are not too sweet, so they're a blank canvas for adding other flavors, toppings, and decorations.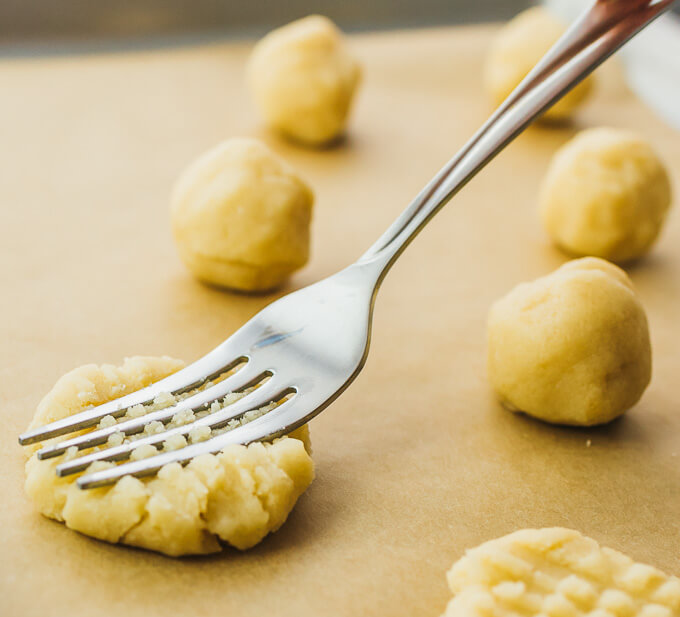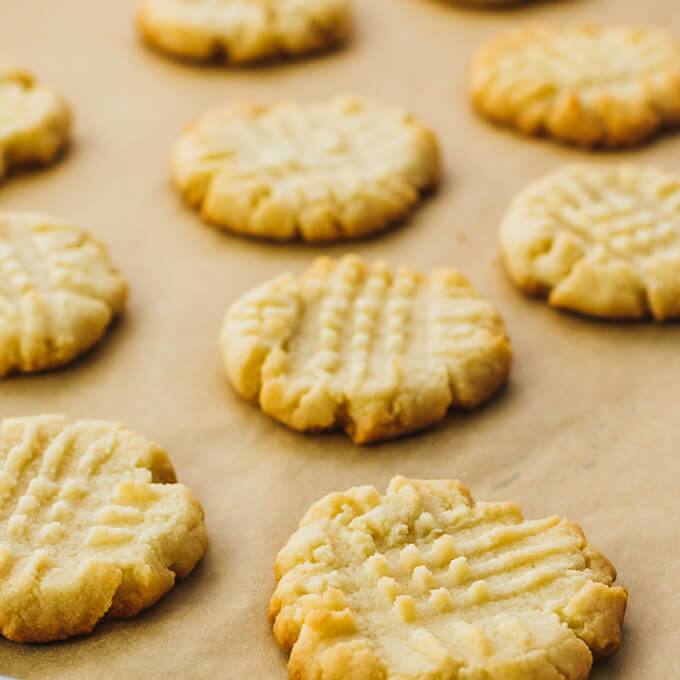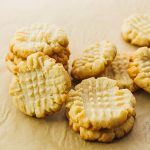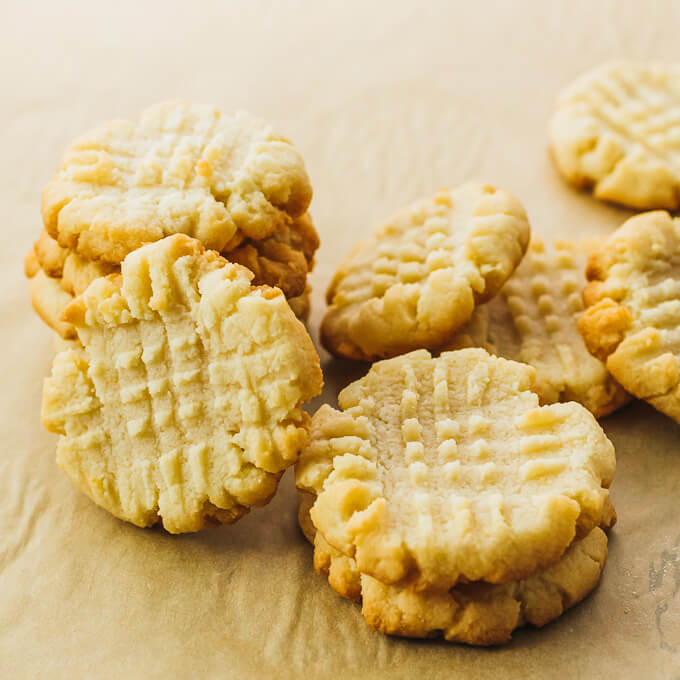 Low Carb Butter Cookies With Almond Flour
Simple butter cookies perfect for the holidays. Keto and low carb friendly.
Instructions
Preheat the oven to 350 F.

Prepare a baking sheet lined with parchment paper or a nonstick baking mat.

In a mixing bowl, combine all ingredients, thoroughly stirring until resembling a dough. As you stir, initially it will look crumbly and then it will form into a cohesive dough.

Use the dough to form 1-inch balls, placing them on the baking sheet. There should be about 12 balls, separated from each other by about 2 inches.

Flatten each dough ball using a fork, then rotate 90 degrees and flatten again, forming a criss-cross pattern. Or form into a different desired shape and pattern.

Bake at 350 F until the cookies are golden around the edges, 8 to 10 minutes depending on the thickness of the cookies.

The cookies will be very soft when they come out of the oven. Let cool completely before removing them from the baking sheet.
Nutrition Info
This recipe yields 0.5 g net carbs per serving (1 cookie). Nutrition information does not include erythritol because it cannot be digested by the body.
Nutrition Facts Per Serving
| | |
| --- | --- |
| Calories 80 |   |
| Total Fat 8g | 12% |
|    Saturated Fat 2g | 10% |
|    Trans Fat 0g |   |
| Cholesterol 8mg | 3% |
| Sodium 30mg | 1% |
| Potassium 60mg | 2% |
| Total Carb 1.5g | 1% |
|    Dietary Fiber 1g | 4% |
|    Sugars 0.5g |   |
| Protein 2g |   |
MORE LOW CARB, SUGAR FREE DESSERTS: