Here are 100 of the best low carb chicken recipes, all in one convenient place for your perusal.
This comprehensive list spans a wide range of easy chicken recipes, including stovetop skillet meals as well as baked dishes like hearty casseroles. Some of these recipes use boneless chicken breasts and others use chicken thighs, so there's something for everyone. Some recipes have been adapted for slow cookers and Instant Pot pressure cookers. I also feature some cold chicken dishes like salads and lettuce wraps.
All of the linked recipes below are either strictly low carb and keto friendly, or easily adaptable for a low carb diet. I hope you find this list to be a useful starting point when thinking of all the low carb dinner possibilities with chicken.
If you're interested in learning more about a low carb diet, you can check out this low carb grocery list and a guide on how to start a low carb diet. Additionally, you can sign up to receive recipes for easy low carb meals:

BROWSE FOR SPECIFIC CHICKEN RECIPES BY JUMPING TO SECTION:
Low Carb Chicken Skillet Recipes

(1) Creamy Sun-dried Tomato Chicken With Spinach and Garlic
(2) Tomato Chicken With Basil Garlic Sauce
(3) Cashew Chicken and Broccoli Stir Fry
(5) Kung Pao Chicken
(6) Chicken with Bacon Mustard Sauce
(7) Easy Indian Butter Chicken
(8) One Skillet Chicken With Lemon Garlic Cream Sauce
(9) Creamy Paprika Chicken Skillet
(10) Chicken in Creamy Green Onion Sauce
(11) Creamy Sundried Tomato + Parmesan Chicken Zoodles
Low Carb Boneless Chicken Breast Recipes

(12) Healthy Chicken Parmesan Tenders
(13) Lemon Chicken Piccata With Capers
(14) Chicken Satay Recipe With Peanut Sauce
(15) Best Chicken Tikka Masala
(16) Asparagus Chicken Alfredo
(19) Low Carb Market Chicken Skillet
(20) Chicken Breasts With Mushroom Cream Sauce
(21) Chicken Breasts With Jalapeno Cheese Sauce
(22) Herb Chicken Breasts
Low Carb Chicken Crockpot/Slow Cooker Recipes

(23) Slow Cooker Chicken Tikka Masala
(24) Low Carb Chicken Coconut Curry
(26) Low Carb Chicken and Sausage Gumbo
(27) Slow Cooker Buffalo Chicken Cauliflower Rice Bowl
(28) Crockpot Butter Ranch Chicken
(29) Slow Cooker Chicken Fajitas
(30) Crockpot Mississippi Chicken
(31) Slow Cooker Chicken And Mushrooms
(32) Chipotle Chicken Zucchini Soup
Low Carb Chicken Instant Pot Pressure Cooker Recipes

(34) Instant Pot Chicken With Creamy Mushroom Gravy
(35) Instant Pot Chicken Tikka Masala
(36) Instant Pot Creamy Chicken With Sun-Dried Tomatoes And Spinach
(37) Instant Pot Chicken Adobo
(38) Instant Pot Chicken Wings
(39) Instant Pot Chicken Cacciatore
(40) Instant Pot Shredded Chicken Burrito Bowl
(41) Instant Pot Whole Chicken
(42) Instant Pot Chicken Marsala
Low Carb Baked Chicken Recipes

(43) Simple Roast Chicken With Vegetables
(44) Low Carb Chicken Meatballs
(45) Chicken Fajita Stuffed Peppers
(46) Chicken Pot Pie
(47) Stuffed Chicken Parmesan Meatloaf
(48) Chicken Crust Pizza
(49) Buffalo Chicken Stuffed Mushrooms
(51) Baked Lime Chicken
(52) Sweet & Spicy Baked Chicken
(53) Baked Garlic Butter Chicken
Low Carb Chicken Casserole Recipes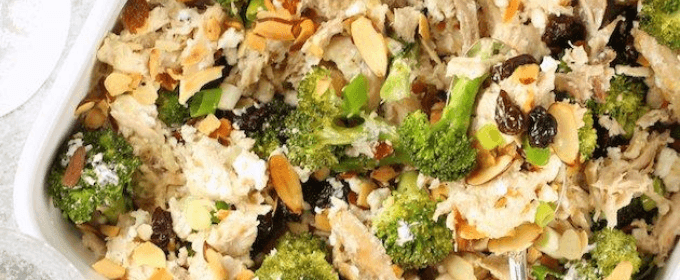 (54) Chicken Broccoli Casserole With Almonds
(55) Chicken Bacon Ranch Casserole
(56) Low-Carb Chicken and Cauliflower Casserole
(57) Low Carb Chicken Divan Casserole
(58) Broccoli Bacon Cheddar Chicken
(59) Easy Low Carb Mexican Chicken Casserole
(60) Low Carb Chicken Pesto Bake
(61) Low Carb Chicken Cordon Bleu Casserole
(62) Low Carb Salsa Verde Chicken Casserole
(63) Chicken Parmesan Spaghetti Squash Casserole
(64) Creamy Swiss Chicken Bake
(65) Low-Carb Pepperoni Pizza Chicken Bake
(66) Green Chicken Enchilada Cauliflower Casserole
Low Carb Chicken Thigh Recipes

(67) Chicken Garlic Mushroom Saute
(69) Chicken Scarpariello with Cherry Peppers
(71) Crispy Chicken Thighs with Rosemary Butter
(72) Lemon Butter Chicken
(73) Crispy Pan Roasted Chicken Thighs
(74) Creamy Parmesan Herb Chicken Thighs With Mushrooms
(75) Lemon Pepper Chicken With Brown Butter Garlic Sauce
(76) Baked Chicken Thighs in Creamy Garlic Spinach Sauce
(77) Creole Crispy Baked Chicken Thighs
Low Carb Stuffed Chicken Recipes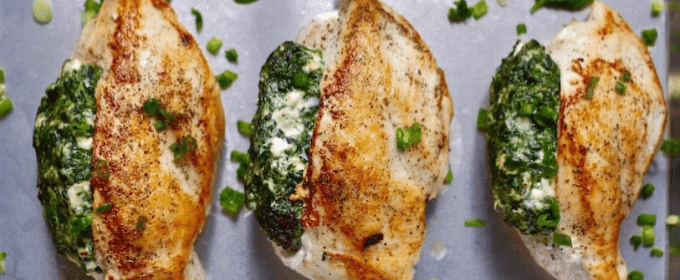 (78) Spinach Stuffed Chicken Breasts
(79) Four Cheese Hasselback Chicken
(80) Bacon Wrapped Cream Cheese Stuffed Chicken
(81) Spinach Artichoke Stuffed Chicken
(83) Asparagus Stuffed Chicken Breast
(84) Pesto Tomato Mozzarella Stuffed Chicken Breasts
(85) Pesto Cheese Stuffed Chicken
(86) Cheddar Broccoli Stuffed Chicken
(87) Hasselback Fajita Chicken
(88) Caprese Stuffed Balsamic Chicken
Low Carb Chicken Salads & Wraps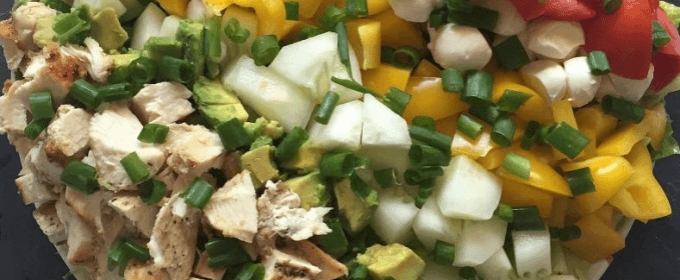 (89) Chicken, Avocado, and Mozzarella Chopped Salad
(90) Keto Chicken Salad With Bacon, Avocado, & Caesar Dressing
(91) Dill Chicken Salad
(92) Low Carb Chicken Curry Salad
(93) Chicken Club Lettuce Wraps
(94) PF Chang's Chicken Lettuce Wraps
(95) Lemon Herb Mediterranean Chicken Salad
(96) Chicken Avocado Caprese Salad
(97) Bacon Cheddar Ranch Chicken Salad
(99) Chicken Tortilla Lettuce Wraps
(100) Thai Chicken Lettuce Wraps